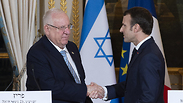 President Reuven Rivlin and French President Emmanuel Macron, Élysée Palace, January 23
Photo: MCT
Lebanon willl be held accountable for all activity carried out on its soil, including that of Iranian-backed terror group Hezbollah, Israeli President Reuven Rivlin told his French counterpart Emmanuel Macron during a meeting in Paris on Wednesday.
"If we are threatened from Lebanon, we will not stand by. Lebanon bears sovereign responsibility for all Hezbollah actions," Rivlin told Macron, who is expected to visit Lebanon soon, during their meeting at the Élysée Palace.
The two met at the Élysée Palace for talks that touched on the Iranian presence in Lebanon and the Islamic republic's attempts to operate against Israel through Hezbollah.
Two weeks ago, the Israel Defense Force announced the end of Operation Northern Shield, launched in early December to expose and neutralize terror tunnels Hezbollah has constructed along the Israel-Lebanon border since the end of the 2006 Second Lebanon War.
The operation ended with discovery and destruction of a sixth attack tunnel.
Pointing the finger at Lebanon for the Shiite terror organization's actions, Rivlin said, "The Lebanese president cannot wash his hands of it if Iranian missiles are fired from his country onto Israel."
Furthermore, Rivlin stressed that Tehran's ballistic missile program, in addition to its nuclear program, poses a great threat to the Jewish State.
President Rivlin lands in France (צילום: לע"מ)
"For us, the Iranian regime is an enemy that does not mask its intentions regarding the destruction of Israel. We must take this seriously. The Iranian threat is not restricted to its nuclear program. It continues with its missile program which represents no less serious a threat," he said.
Israeli Air Force Commander Maj. Gen. Amikam Nurkin, who in an unexpected move accompanied Rivlin to Paris, briefed Macron about recent developments in Syria following the Israeli strike on Iranian targets near Damascus on Monday, a day after Iranian fighters fired a surface-to-surface rocket at the northern Golan Heights.
In response, Macron reiterated his concerns regarding the recent fire on Israel from Syria. "We will continue protecting Israeli interests and will make sure that our partners do the same."
Addressing Israel's southern front, Rivlin asked for France's help in returning the bodies of fallen soldiers Oron Shaul and Hadar Goldin, who died during the 2014 Gaza war, and for the safe return of Israeli citizens Avera Mengistu and Hisham al-Sayed, who are being held captive by Hamas.
"This is a gross violation of international humanitarian law and Hamas does not even allow the Red Cross to visit," Rivlin said of the two captives.
"A solution will only be found through dialogue and mutual respect, and I want to comment the president's brave and pragmatic position that we must build trust between the two sides. France will do all it can to find a solution on the ground, and when it is found we will support it with all our might," Macron said in reference to the now-stalled negotiations between Israel and Hamas.
He added: "I believe that from where we are standing now, we must continue to fight without compromise against anything that threatens mutual respect. The continued building of settlements delays a solution and at the same time any boycott that aims to harm Israeli interests is unacceptable to us."
Earlier, the president met with the heads of the Jewish and the Muslim communities in France.
Against the backdrop of recent rising tensions between both communities in France, Muslim and Jewish leaders have held several meetings to encourage dialogue between the sides.