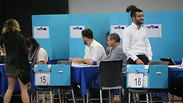 Likud primaries
Photo: Motti Kimchi
With 80 percent of the votes counted in the ruling Likud Party's primary elections, it appeared Wednesday afternoon that the next Knesset will be deprived of a number of prominent lawmakers. Oren Hazan, Yehuda Glick, Ayoob Kara, Yaron Mazuz, Nava Boker and Anat Berko all failed to secure a realistic position on the party list, making their chances of staying on as lawmakers very slim.

At the upper end of the scale, Knesset Speaker Yuli Edelstein won the most votes, closely followed by Transportation Minister Yisrael Katz, while a long-time rival of Benjamin Netanyahu, Gideon Sa'ar, battled it out for third place with Public Security Minister Gilad Erdan. Culture Minister Miri Regev, meanwile, appeared to have secured the next spot on the list.

Recent opinion polls show Likud winning around 30 seats in the April 9 vote.

Netanyahu has been working to keep former education minister Sa'ar, who took a break from political life in September 2014, from the top spots on the list, and the two have been locking horns in a very public political feud in the days leading up to the party's primaries. Now, Sa'ar seems set to make a big comeback.

Others in the party's top 10 are Ministers Yariv Levin, Yoav Galant (who only recently left Minister Moshe Kahlon's Kulanu and joined Likud), and Gila Gamliel, along with former Jerusalem Mayor Nir Barkat and ex-Shin Bet chief Avi Dichter.

Ranked in the top 20 are ministers Yuval Steinitz, Tzachi Hanegbi, Ze'ev Elkin and Ofir Akunis, along with Deputy Foreign Minister Tzipi Hotovely. Joining them to complete the top 20 are Minister Haim Katz, coalition chairman David Amsalem and his predecessor David Bitan, Amir Ohana and Yoav Kisch.

After all the votes are tallied, the candidates on the national list will be ranked based on the number of votes they received, with some spots reserved in advance to the different districts, women, young candidates and special sectors.

The top spot is reserved for Netanyahu, while spots 2-9, 11-18 and several others down the list will go to candidates on the national list, based on how high they ranked in the primaries.

Spots 10 and 20 will go to women on the national list, while spots 25, 31, 35, 46 and 50 will go to new female candidates on the national list. Spots 19, 21, 22, 26, 29, 33, 34, 36, 28, 29, 41 and 42 are reserved for the different districts. Spot 28 is reserved for a new immigrant, spot 30 for a non-Jewish candidate and spot 43 for a Haredi candidate.

Netanyahu can place a candidate of his choosing in the 21st spot, while he also asked to reserve the 28th and 36th spots—a request Likud voters are likely to grant him.

The Tel Aviv district (number 29) is seeing a close battle between Netanyahu's former bureau chief David Sharan, who is suspected of corruption in the so-called submarine affair (Case 3000) but who nonetheless got backing from the prime minister, and Michal Shir, a close ally of Sa'ar.

The former chairman of the Israel Airports Authority workers' union, Pinchas Idan, is leading the race by hundreds of votes for the coastal plain district's spot on the list (number 19).

Some 69,874 out of the Likud Party's 120,000 registered voters cast their ballots on Tuesday in the party's primary elections. The polls closed at 10pm, with voter turnout standing at 58 percent, which is three percent higher than the last primary elections.