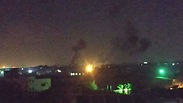 The Israeli Air Force hit a Hamas observation post near the city of Beit Hanoun in northern Gaza, Palestinians sources said on Sunday. No casualties were reported.

IDF Spokesperson's Unit said the attack was carried in response to Palestinians throwing explosive devices at the security fence earlier today.

Earlier, two unarmed Palestinians were arrested in northern Gaza after crossing into Israel. They were apprehended by Israel Defense Forces troops and taken for questioning.

On Saturday, IAF aircraft targeted two Hamas posts in the coastal enclave after a cluster of balloons tied to an explosive device was flown from Gaza into Israel. Neither casualties nor damage were reported in the incident.

The first strike was carried out near the al-Bureij refugee camp in central Gaza, where Palestinians regularly hold their March of Return protests in adjacent to the Kissufim area.

According to Palestinians sources, the IDF later carried out another airstrike on a Hamas observation post in southern Gaza, east of Rafah. No casualties were reported in both strikes.

On Wednesday night, the army targeted two Hamas positions in central and southern Gaza, striking at least one position of the terror organization's military wing after an explosive device tied to a cluster of balloons landed in the Eshkol Regional Council in southern Israel, causing damage to the windows of a house there. No casualties were reported in the incident.

The IDF Spokesperson's Unit said the balloons were dispatched from southern Gaza and that it appears the device exploded in midair.

Following the incident, head of the Eshkol Regional Council Gadi Yarkoni said: "The airborne incendiary and explosive devices tied to balloons are terrorism to all intents and purposes, and today this terrorism is stepping up.

"Eshkol residents have shown incredible patience, allowing the decision-makers and the Israel Defense Forces to exhaust all options to eradicate the terror striking our communities. But we won't accept this reality and expect an immediate solution ensuring long-term calm."

In February, two fires broke out in the Kissufim forest in the Eshkol Regional Council, near the Israeli border with Gaza, due to incendiary airborne device tied to a balloon launched from Gaza. This was the first fire in five months sparked by incendiary balloon flown from Gaza.