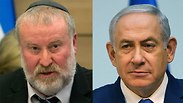 AG, PM
Photos: Amit Shabi, Alex Kolomoisky
Attorney General Avichai Mandelblit announced Monday that he agreed to the request by Prime Minister Benjamin Netanyahu's advocates, and will only release investigation materials regarding the PM's ordeals after the April 9 elections.

The message was delivered to all the relevant parties in cases 1000, 2000 and 4000, that involed the prime minister. The advocates were requested to prepare accordingly regarding dates for a hearing, which are expected to take place no later than July 10th. Netanyahu's hearing will be conducted by Mandelblit while the others involved will face the Tel Aviv district attorney.

The investigations material will be made available to the attorneys at the Tel Aviv DA's office beginning on the 10th of April, the day following the elections.

"After weighing their positions, and taking into account the overall circumstances of the case, the attorney general decided to grant the request of the prime minister's representatives to delay the release of the investigation materials in the cases related to the prime minister until after the election date," Mandelblit's office said.

The prime minister's attorneys sought to delay the release of the materials in light of their claim that the evidence will find its way into the media and will be published during the election season. The Attorney General decided that in the circumstances of the case, and bearing in mind that the purpose of the release of the investigation materials is to enable the defendants to prepare for a hearing, and in view of the proximity to the date of the elections, to accede to the request.

Mandelblit announced last month that the prime minister would be charged for bribery in Case 4000 (the Bezeq-Walla affair), and fraud and breach of trust in Case 1000 (the gifts affair) and in Case 2000 (the Netanyahu-Moses talks).

Two hours after receiving the full indictment against him, Netanyahu made a statement accusing Attorney General Mandelblit of capitulating to the Left and State Prosecutor Shai Nitzan of "pushing an extreme line against him." The prime minister also accused the Left of trying to topple the Likud government not via the ballot box.

State Prosecutor Nitzan dismissed the prime minister's claims, and a few days after the indictment was submitted said that "the decisions were made solely on the basis of evidentiary considerations, we did not any consider political considerations in Netanyahu's case."

The State Attorney Association also rejected claims of personal persecution and expressed support for the lawyers involved in the affair. "We reject with disgust the serious and personal attacks of the prime minister and other senior officials against lawyers and the State Attorney's Office in Israel," Orit Korin, the organization's director, wrote in a letter to attorneys.