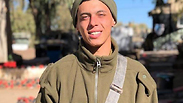 The Israeli soldier who was seriously wounded in a deadly West Bank attack on Sunday—and is now fighting for his life—has been praised by the teachers of his former school as well as the head of his hometown for braving the tough upbringing as an immigrant from Moldova who realised his mission of becoming an IDF fighter.

Alexander Dvorsky, 19, was shot Sunday morning by 20-year-old Omar Abu Lila, who also shot dead 19-year-old Staff Sergeant Gal Keidan and critically wounded 47-year-old Rabbi Achiad Ettinger. The father of 12 succumbed to his wounds in a hospital a day later. Dvorsky remains in a serious condition at Beilinson Hospital in Petah Tikva.

"A Zionist soldier who immigrated to Israel alone… and whose family immigrated shortly after, a young boy who fulfilled his mission by enlisting in an IDF combat unit," said Eyal Betzer, the head of the Jezreel Valley Regional Council, where the soldier first arrived following his move from Moldova.

The soldier's family now lives in the northern city of Nazareth Illit in the Galilee, where Alexander attended the last three years of high school. The head of the Nahalal boarding school where he studied described the soldier as an outstanding student and a very social young man.

The 19-year-old's older brother, Oleg, immigrated to Israel first—and also attended the boarding school—followed by Alexander himself and eventually his mother and grandmother.

"The soldier, who is in a very serious condition, underwent surgery and had been moved to the intensive care unit," said Bellinson Hospital in a statement on Sunday.

President Reuven Rivlin and Deputy Health Minister Yaakov Litzman visited Alexander in hospital.

"This was a murderous attack carried out by bloodthirsty terrorists," Litzman said. "We are relying on the prime minister and the security forces to apprehend the murderers. Our thoughts and prayers are with the families of the victims."

On Monday morning, the Israeli military raided the home of the suspected attacker and arrested his teenage brother. The security forces also questioned the father of the suspect, and searched a store belonging to the family. Despite the ongoing manhunt, the 20-year-old gunman still remains at large.