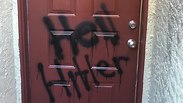 Police are investigating anti-Semitic messages and Nazi imagery scrawled on dozens of gravestones at a Jewish cemetery in Massachusetts.

Fall River police say the vandalism at Hebrew Cemetery occurred over the weekend. Sgt. J.T. Hoar says police became aware of the graffiti Sunday after receiving a report of a suspicious vehicle that had been parked in the cemetery for two days. The vehicle was gone by the time officers arrived.

The Herald News reports that at least 30 gravestones were tagged with swastikas and phrases including "heil Hitler" and "Hitler was right" in black marker. One stone was tagged with "Oy vey! This is MAGA country," an apparent reference to President Donald Trump's campaign slogan, "Make America Great Again."

No arrests have been announced.

The incident is the latest in a chain of similar events that have taken place in the past year around the world, in particular in Europe, with swastikas and hate graffiti appearing on Jewish institutions and property in Poland, Greece, Spain, France and other countries.

In Madrid, two vandalism incidents that included Nazi graffiti took place in the passing year: one outside the home of emissaries from the World Zionist Organization, and a second in front of the house of a senior local Jewish activist and chairman of a Jewish organization fighting local boycotts of Israel.

In Manchester, in the north of England, headstones at Urmston Jewish Cemetery were vandalized in early February.

The anti-Jewish sentiment has also reached Poland, when large posters were placed on several residential buildings in Warsaw mid February. Signs read: "These buildings will soon be returned to the Jews, to meet their demands."

In the Greek capital Athens, anti-Semitic graffiti was sprayed in the yard of a Jewish school in the passing year. The graffiti said, among other things: "Jews are whores."

In France, which is home to the largest Jewish community in the world after Israel and the US, has seen an increasing number of such anti-Semitic attacks. Recent incidents include swastikas sprayed on mailboxes image of late French Jewish politician Simone Veil, who was a Holocaust survivor, a minister in the French government and president of the European Parliament.

In Paris, the word Juden (German for Jew) was daubed on the window of a bagel shop.

In another incident, the French-Jewish philosopher Alain Finkielkraut was attacked with anti-Semitic slogans when he came across a yellow vest demonstration in central Paris. Days later, at least 80 graves were desecrated in a Jewish cemetery near Strasbourg, in the eastern part of the country.

In addition, unknown assailants vandalized the Paris memorial to Ilan Halimi, a young French Jew who was tortured and murdered in a 2006 anti-Semitic attack that shocked France.

Also in February, anti-Semitic graffiti was painted on the facades of houses and street furniture in the 14th arrondissement of Paris. A municipal official said that there had been dozen cases of anti-Semitic graffiti sprayed on several streets in the southern part of the French capital.

In the wake of the wave of anti-Semitic incidents in France, tens of thousands took to the streets of Paris and other locations in the country in protest mid February.

The Paris demonstration was attended by Prime Minister Edouard Philippe and former presidents François Hollande and Nicolas Sarkozy. Before the rally, Philippe warned that anti-Semitism was "deeply rooted in French society."

In the U.S., other recent anti-Semitic vandalism acts included swastikas graffitied on a Jewish professor's office in Columbia University in New York City; "Heil Hitler," graffiti in a Park in NYC; and a Southern California synagogue vandalized with anti-Semitic graffiti.

US Jewry experienced its worst ever anti-Semitic attack in October, 2018, when a gunman stormed a synagogue in Pittsburgh, Pennsylvania during Shabbat services and shot worshipers, killing 11 and wounding six others.