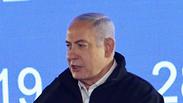 Prime Minister Benjamin Netanyahu
Photo: Gil Nehushtan
Israel will pursue only a ground operation in the Gaza Strip if all other options fail, Prime Minister Benjamin Netanyahu said Thursday, as efforts to restore the calm between Israel and Hamas after several days of fighting appeared to be taking effect.

Netanyahu was referring to the Palestinian protests planned for Saturday, to mark the one-year anniversary of the weekly March of Return demonstrations, which often deteriorate into riots that lead to Gazan casualties. Hamas plans to have a "million-man march" along the Israel-Gaza border, which could shake the fragile calm.

"If we need a broader operation, we will enter it strong and confident, and after we have exhausted all other options," Netanyahu said, hours after visiting troops sent to the Gaza border after the fighting broke out Monday, when a rocket fired from Gaza destroyed a home north of Tel Aviv and Israel retaliated with massive aerial bombardments.

The prime minister was speaking at a ceremony inaugurating a new segment of Route 6 toll road that crosses central Israel from north to South.

"We're creating a security cordon around the Gaza Strip, in recent days I've moved troops and added equipment so that we're ready for a broad operation," said Netanyahu.

"Israel's citizens, know this: if we need a broad operation (in the Gaza Strip), we'll enter it strong and secure after all other options have failed."

A short while after Netanyahu's speech, the IDF announced it completed its preparations for possible riots during the March of Return and Land Day, a day expressing solidarity with the Palestinians in the territories that draws vast protest in the Israeli Arab public.

The IDF Spokesman's Unit said that due to the tense and sensitive situation, all fighting forces in the Israeli Southern Command will remain on their bases during the weekend, and a division, three brigades and artillery forces have been deployed to the Gaza border.

The prime minister did not approve reports about an overnight airstrike targeting Iranian weapons stores in Syria that was attributed to Israel, but said Israeli efforts to prevent Iran's entrenchment in Syria are ongoing.

"Iran keeps trying to move advanced long range missiles into Syria, very advanced, very deadly. We won't have it," said Netanyahu.