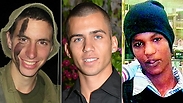 Oron Shaul, Hadar Goldin and Avera Mengistu
Hamas says 'real chance' to negotiate return of Israeli MIAs, POWs
The statement comes just hours after Israel held a ceremony commemorating IDF troops fallen in the 2014 war, where Netanyahu vowed to bring back all those still held in Gaza; adds Israel is preparing for an 'extensive' military operation in enclave
The Hamas terror group on Tuesday said there's a "real chance" to negotiate a return of Israeli MIAs and POWs but the window of opportunity "could soon be closed." The statement comes just hours after a state ceremony was held in Jerusalem commemorating Israeli troops fallen in the 2014 Gaza war known as Operation Protective Edge.

The bodies of Hadar Goldin and Oron Shaul, who died alongside four other IDF soldiers during Protective Edge on July 20, 2014, are believed to be held by the terror group in the enclave to this day. Israel recently marked five years since the seven-week-long war broke out.

"Israeli government continues to lie about its MIAs," said a spokesman for Hamas' armed wing, Abu Obeida, "The enemy's leadership avoids having to deal with the truth and it's paying the price."

"There is a real chance to resolve the issue … if Israeli leadership is serious," he said, adding that "this case may soon be closed, take the Ron Arad affair as a lesson to learn from."

Goldin and Shaul were traveling through the Shuja'iyya neighborhood in Gaza City in an armored personnel carrier that was hit by an anti-tank missile, killing the six soldiers in it. Hamas quickly declared it had seized Oron and Hadar, not mentioning if the soldiers are alive or dead. The IDF declared the two as deceased soldiers whose burial place is unknown shortly after the incident.

In addition, Hamas claims to have captured, Avera Mengistu and Hisham al-Sayed, two mentally ill Israelis who voluntarily crossed into Gaza several years ago.

Prime Minister Benjamin Netanyahu spoke at Tuesday's memorial ceremony in Jerusalem vowing to bring back the bodies of the two soldiers as well as the two citizens held by the terror group.

"We are committed to bringing Oron Shaul and Hadar Goldin, as well as Avera Mengistu and Hisham al-Sayed, back home," said Netanyahu. "I cannot go into detail here about everything that we are doing but we are doing very much."

Netanyahu then went to warn the Palestinian factions in the Strip that despite the recent efforts to achieve a possible long-term ceasefire arrangement, the military continues to make plans for a military campaign in the enclave.

"We are working to achieve calm, but we are prepared to embark on a campaign, an extensive military operation to strike Hamas and Islamic Jihad," he said. "I cannot go into details but those who are involved in these preparations, who are sitting here today, know very well that these are not mere words."