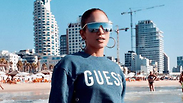 Jennifer Lopez on a beach in Tel Aviv
Photo: Instagram
Jennifer Lopez did more for Israel's image than any politician ever could
Opinion: At a time when Israeli producers struggle to convince top international artists to perform in the country due to BDS pressure, JLo unapologetically made her presence in the Holy Land known to her 100 million social media followers
A thousand ambassadors would not have been able to improve Israel's image in the eyes of the world the way Jennifer Lopez, who has over 100 million followers on social media, has done during her five day visit to the Holy Land as part of her concert tour.

It all started with her decision to agree to come to Israel at all, at a time when local producers are struggling to convince top international artists to perform in the country amid the Boycott, Divestment and Sanctions threats. Case in point, this summer - with the exception of Bon Jovi - we haven't seen a single top-tier performer do a show in Israel.

Although Lopez probably made millions of dollars by performing in Israel, she could've earned that money by doing a show anywhere else in the world. Then, Lopez opted to fly El Al, like the rest of us "commoners." She made a point not to keep a low profile - as if it was nothing more but a work visit - but come with her twin children and fiancé Alex Rodrigez, a baseball legend, for a mini vacation.

Lopez landed in Israel wearing leopard-print crop top and matching leggings and unlike other artists of JLo's stature, she didn't make it hard for photographers, or media in general, to get a hold of her.

She understands the rules of the game. Lopez stopped to take countless selfies and avoided spending her time in the country hiding away in her pimped-out hotel suite. The singer wanted to see Tel Aviv's fancy entertainment venues from up close, and didn't make any unreasonable demands, unlike some of her colleagues.

The Israeli audience is not stupid, and always warmly and lovingly welcomes those who reach out. Thus, Lopez didn't encounter any harassment from the onlookers, and even seemed to enjoy the attention. Her partner, A-Rod, for his part shared the photos from the trip with his Instagram followers, calling the experience "unforgettable."

As for the concert, it's safe to say it's been awhile since there was such a widespread consensus among Israeli concertgoers about a live show, which was absolutely perfect. This is due to the pop-star's impeccable professionalism that Israelis can learn something from.

Lopez arrived at the concert venue - at Tel Aviv's HaYarkon Park - a day before the show in the midst of the summer heat for a rehearsal. She repeatedly checked the stage, the sound and the equipment, and only after making sure everything was perfect the singer made her way to central Tel Aviv for some recreational activities.

The Instagram post she put up after the show, thanking the audience for a warm welcome, is great publicity for those trying to bring artists to perform in Israel.

A day after the concert, JLo and her family visited Jerusalem, the Western Wall and took selfies with a camel. Afterwards Lopez made a visit to a beach in Tel Aviv, the kind of thing the Ministry of Tourism would normally pay a fortune for but JLo provided that free of charge.

Bottom line is that Lopez's trip has been one of the most successful visits by an international artist to Israel ever. A slap in the face to the BDS that put a lot of pressure on the singer and the ones close to her in an attempt to stop her from coming.

I heard some critics say that "Israeli provinciality" is what turned the singer's visit into something bigger than it actually was.

There seems to be a bit of a misunderstanding. Jennifer Lopez is not just a singer, she is a bonafide pop icon. Her photos on a beach in Tel Aviv were received with just as much excitement around the world as they had been here, and some Israeli so-called celebrities can definitely learn a thing or two from her as well.