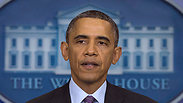 Obama. 'The higher the expectations – the deeper the disappointment'
Photo: AP
Ever since he entered the White House, President Obama has made a habit of using the Christmas break to escape the Washington chaos in favor of the beaches of Hawaii. This year it seems, however, that even a visit to the island he was born in will not provide him with the pleasure he has been seeking.

With plunging popularity among the American public – and lack of sympathy in the rest of the world – the beaten president will be forced to sit through the holiday meal this week and face the truth which even his most loyal supporters are no longer afraid to admit: The person elected on the wings of hope is leaving a legacy of disappointment behind him.

Spy Games

Op-ed: Intelligence services have much better ways of collecting information than tapping phones or emails

Only five years ago, Obama was the biggest hope of US liberals: An ideologist and enlightened person, who brought along not only a challenging worldview but a new message filled with inspiration – one which honors human rights, reconciles with the international community and restores the United States' historical place as a guiding light to the world.

Upon the revelation of new details over the weekend about the scope of wiretapping carried out by his administration, it turned out that the higher the expectations – the deeper the disappointment. The liberal president has in fact turned into the Big Brother: At his approval, satellite imagery was intercepted and countless emails and text messages were read; under his command, UAVs were sent on targeted assassinations around the world which led to the killing of innocent people; and under his watch, the Guantanamo Bay detention camp – which he promised to shut down – is still operating. He may have had pure intentions, but the person who was the promise of the American Left has turned into a caricature of a liberal.

It's true, everyone listens in on everyone, and the US is not the only country tapping Israel. But the troubling aspect of this affair is the extent of the American addiction to any piece of information – particularly when it has nothing to do with national security issues and amounts to gossip. The American passion for information is insatiable, and Obama's administration is acting like someone who has become addicted to endlessly digging in friends' communication lines.

When Obama is done lying on the beach in Hawaii and goes back to work, he will have to gather all his strength not only to minimize the damage from the recent revelations, but also to save something much more important: His legacy as a president.