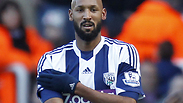 Anelka. Faces a minimum five-game ban for 'anti-Semitic' goal celebration
Photo: AFP
VIDEO – West Bromwich Albion striker Nicolas Anelka called on the English Football Association on Wednesday to drop his racism charge after the leader of French Jewry insisted a goal-celebration gesture was not anti-Semitic.

The FA spent more than three weeks studying the case before deciding the gesture, which is known in France as a "quenelle" and has been described as an "inverted Nazi salute," was a racially aggravated breach of its rules.

Video courtesy of jn1.tv

But the Frenchman, who faces a minimum five-game ban, insisted the FA wrongly interpreted the meaning of the quenelle.

Anti-Semitism

Op-ed: 'Quenelle' gesture is not a popular sign of contestation; it is the indicator of a modern form of violent anti-Semitism building up in France

"I ask the English FA to kindly lift the charges alleged against me," Anelka wrote on his verified Facebook page. "And I repeat, I am not anti-Semitic or racist."

Anelka is highlighting how Roger Cukierman, the president of the Representative Council of French Jewish Institutions, believes the FA overreacted by charging him.

On Tuesday, Anelka tweeted "nothing to add" with a link to a French interview with Cukierman insisting the striker's actions were not anti-Semitic because they were not in front of a synagogue or a Holocaust memorial.

Anelka said the FA should have consulted Cukierman.

"The English FA engaged an expert to give a ruling on the meaning of my quenelle," Anelka wrote on Wednesday on Facebook. "This person concluded that my gesture had an anti-Semitic connotation, which led to me being charged by the FA. It would have been right if this expert was French, living in France and able to have an exact understanding of my gesture.

"What better expert than Mr. Cukierman ... who explained very clearly that my quenelle could not be considered as anti-Semitic. What's more, he has explained precisely and at which moment this gesture could have such a connotation."
2 more sponsors consider withdrawing backing
Anelka has until Thursday to formally respond to the FA charge. A three-person FA independent regulatory commission will deal with the case.
English football's latest race row has already caused West Brom's main sponsor, property website Zoopla, announce it will not renew its jersey deal when it expires at the end of the season.
Another two sponsors of the central England club are considering withdrawing their backing.
Jack Wolfskin, an outdoor clothing, footwear and equipment specialist, said it strongly disapproved of discriminatory gestures, and was awaiting the FA's final judgment.
"Depending on what our partner West Brom says, which measures they take and considering our legal possibilities, we would consider ending our sponsorship as one option," the company said in a statement.
Watch firm Holler said it was "reviewing the situation" before deciding whether to extend its contract beyond this season.
But kit supplier Adidas, while stressing it was "wholly opposed to extremism," said it remains committed to West Brom and will leave disciplinary cases for the club and the FA to handle.