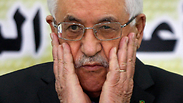 Abbas. Israeli leaders should unveil whether Palestinian refusal is grounded on legitimate concerns
Photo: AP
Mahmoud Abbas' refusal to recognize Israel as a Jewish state proves to many Israelis that the Palestinian camp does not genuinely desire peace. The fact that Abbas has convinced Kerry that this recognition should not serve as a deal-breaker proves that perhaps the Palestinians have won this round.

Israel's leadership should rise to the challenge and unveil whether the Palestinian refusal is grounded on legitimate concerns or whether it is part-and-parcel of their historical rejection of Israel's legitimacy and right to exist.

Peace Talks

Op-ed: Would we agree to recognize the Palestinians' right to an 'Arab-Muslim' state in parts of the Land of Israel?

To understand the legitimacy of Palestinian concerns, let us ask ourselves what the reaction of the Anti-Defamation League would be to a congressional resolution that sought to establish the United States of America as a Christian nation. Abe Foxman would not be amused.

American Jews should not be dismissive of the parallels between this hypothetical resolution and the ramifications for Arab Israelis of Israel seeking recognition as a Jewish state. Without wishing to giving credit to the libel that Arab Israelis are treated as third-rate citizens, it is a fact that defining Israel as a Jewish state denies the right to Arabs (and all non-Jewish Israelis) of identifying with their state.

To insist on obtaining recognition as a Jewish state will also boomerang for secular and moderate Israelis. Demographic trends make it very possible that in a couple of generations, Israel will have a religious majority. If Israelis insist on defining their state as Jewish, the political and sociological discourse of the day will be carried by partisans of further encroachment of Jewish law in Israeli society. An avowedly Jewish state will not tolerate car traffic and open cinemas on Shabbat or even non-kosher restaurants in Jewish neighborhoods.

This predicament is even more serious for Arab Israelis, who in a state ruled by Halacha or Jewish law would be degraded to being treated as resident aliens.

These are probably the arguments that Abbas adduced to persuade Kerry that he cannot recognize Israel as a Jewish state. Nevertheless, a smart Netanyahu should hold his ground while changing tack and demand that Abbas recognize Israel as a state with a Jewish majority. By doing so, he will prove that Palestinians are not motivated by concern for the rights of their Arab Israeli brethren.

For Israel to demand recognition as a state with a Jewish majority is the best way to expose Palestinian intransigence to be driven by the demand for the so-called right of return for Palestinian refugees – an unacceptable condition for Israel, the United States and even for European states generally critical of Israeli policies.

These are all valid reasons for Netanyahu and Kerry to jointly demand that the Palestinians recognize Israel as the sole state in the Middle East with a Jewish majority. In case Abbas does not grant this recognition, his bluff will be exposed and all parties will be spared the antics of frustrating and ultimately futile "peace" negotiations.