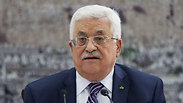 'Mahmoud Abbas is today a private person without any special authorities'
Photo: AP
Like in a typical banana republic, Mahmoud Abbas convened a vague group of people, who were seated around him as if they were some kind of a government, signed applications for joining UN institutions and held a vote, which was approved unanimously of course, with applause from the people around him.

The "Palestinian television," the banana republic's mouthpiece, ran a live broadcast of the "historic" event.

So far for the show. But does his signature even have any legal validity? Abbas, who is 80 years old, was appointed as the Palestinian Authority chairman in January 2005, under Israeli patronage. He ended his term in January 2010. The Palestinian "parliament" was elected in January 2006, also under Israeli patronage, and it also ended its term in January 2010. It should be noted that Abbas is the one who quickly dissolved the parliament, because Hamas had won it.

Question of Recognition

Op-ed: A smart Netanyahu should change tack, demand Palestinians recognize Israel as a state with a Jewish majority.

That is how Abbas stealthily turned from "chairman" into "president," and the "Palestinian Authority" is stealthily trying to turn into a "state."

By the way, there is no Oslo document mentioning a "Palestinian Authority." That was done sneakily too, by Abbas' predecessor, Yasser Arafat.

In other words, every single reader here can be called the "president of Palestine" just like Abbas, who is today a private person without any special authorities. The United States, which was aware of this trick, determined that the negotiations would be between Israel and the PLO, rather than the Palestinian Authority, a body which does not even exist in actual fact. It has no legal leader, it has no parliament, it has no registered parties, it has no elections, and it has no government, because the government had to receive the parliament's approval, but the latter does not exist, as it was dissolved.

Even tyrant regimes like in Syria need fake elections every few years to create a false impression of legality, but in the Palestinian Authority even that isn't possible. After all, Hamas will win every election, the jihadist organization will gain strength, and Fatah – which belongs in a museum – will crash. Everyone understands that. So that is the trap the Arabs living in east Jerusalem are facing: If they go to elections – they will put Hamas in power; if they don't go – they have no legitimacy.

Now we also understand why that group of 20 people, which has controlled the PA and its funds for the past two decades, is already reaching a very old age – why, it has no option of renewal, caught in its own dilemma. It's clear that Hamas will not even allow such elections in Gaza, and as we know, this PA is split into two hostile entities: Gaza and Judea and Samaria. This leadership's old age serves as proof of the ongoing illegality.

The UN can ignore Abbas' lack of legal authority, but it has a legal obligation to examine the signature and an obligation to declare that it is invalid and lacks any authority. And if the UN fails to do so, Israel must remind it of that, through a legal claim.

This Palestinian deceit, which has been going on for two decades now, must come to an end, and those pretending to have rights according to "international law" cannot ignore it when it's inconvenient.

This resembles a situation in which George W. Bush or Jimmy Carter would be signing official US government decrees, or Hosni Mubarak would be doing the same in the Egyptian government.

Without elections and renewed legitimacy, there is not a single functionary in the Palestinian Authority with authorities. And so from a legal point of view, every document it signs must be rejected.