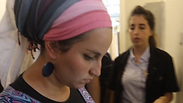 Settler clashes with IDF soldier in Yitzhar
Photo: Gil Yohanan
Because one young woman from YItzhar settlement – a "girl," as Bayit Yehudi Knesset Member Orit Strock referred to her in an attempt to sugar the pill – wrote that a person should not fill his mouth with laughter in this world, then we shall go against our basic human tendency, and not fill our mouths with laughter.

We won't hold our peace either, and the truth is that we will also seriously restrain ourselves and not fill our mouths with the things that should be said about her and her friends, the people of Yitzhar, the capital of defilement created by settlement in the territories. And all we will say, with a lot of restraint, is what ultimately must be said under these circumstances.

Fighting Extremism

Op-ed: Former Shin Bet director urges security service to use every possible resource to destroy Jewish terrorism.

First of all, these are not "errant weeds," as those downplaying the issue try to claim. They have not been weeds for a long time now, and long before this odd email correspondence revealed by Yedioth Ahronoth reporter Akiva Novick, which discussed the question of whether shooting a soldier during an evacuation is permitted, and that was after it was agreed that throwing stones at him is not only permitted but even welcome. And it's not only welcome, but it has even been happening in practice for some time now.

These are not weeds, and whatever they may be, they are not new in this rotten garden. Soldiers who serve in this region, some of whom are in charge of the community's security, say that the slashing of the tires of Samaria Brigade Commander Colonel Yoav Yarom's jeep, as well as the incident in which Yitzhar "heroes" stormed the IDF compound set up there, are part of an ongoing episode of Jewish terror focusing not only on Palestinians in the nearby communities, as part of what they define as "price tag" activities, but also on members of the security forces, police and IDF as one.

"You never know if a patrol in the community and its surroundings won't end with a barrage of stones," says a reserve officer who served there. "And the most irritating thing is that later on in the army, and in the community, they'll feed you with the Shabbat cakes they bring and tell you to let it be, because it's just a few psychos."

They're not psychos, he says, and the proud mother of the righteous Eliraz Fein, who saw no halachic problem in killing a soldier during a night-time evacuation, doesn't think her daughter is a psycho either.

"The young generation has had enough of walking around low-spirited and frightened," she explained Wednesday. And if that were not enough, she even clarified exactly what the young generation has had enough of: "That Jewish women cannot walk around freely like Arab women."

And if that sounds familiar, with a small reversal of roles, it's only because we just marked 70 years since the Holocaust that took refuge in the shadow of similar texts.

And yet all this – irritating, repulsive, threatening and troublesome as it may be – is not as serious as the helplessness demonstrated by those who are supposed to handle such phenomena - the price tag in its different forms, the assaults on the security forces and the open incitement. Starting with the police, through the Shin Bet, to the army.

One doesn't have to study hard to understand just how long the General Security Services' (Shin Bet) arm is. It's just a matter of deciding. Deciding that we've had enough, really; that it's time to deal with this phemomenon the way the State of Israel knows how to do. That there is no justification for this unfounded tolerance, especially not with quite a few of the Yesha Council leaders already confessing to impotence and asking for help.

This phenomenon is only part of the image of this state, even if it does take place beyond the Green Line. It is not something done under compulsion that cannot be condemned; it is not a predestination that cannot be changed. It should be dealt with, and if this text had been written many years ago, it could end with the sentence "the sooner the better."

But in the spirit of these days, this text will end with a question: Just what kind of parents, whoever and wherever they are, agree that their sons will be the next David the Nahal soldier on the one hand – yes, even after the completely irrelevant explanations provided by the army that were meant to explain why he was sent to prison – and just what kind of parents, whoever and wherever they are, agree on the other hand that Eliraz from Yitzhar will lead the campaign of revenge against those soldiers?