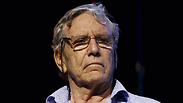 Amos Oz. 'I considered my comments carefully'
Photo: Haim Zach
I have been talking about the occupation and the settlements from the moral aspect for almost 50 years now. On Friday, during an event at Tzavta (a cultural center in Tel Aviv), I wanted to say something about it from the godly aspect.

If there will not be two states very soon, there will be one state – and it will be an Arab state. And if there is an Arab state, I feel no envy for the Jews who will live in it. It will be one of the most difficult exiles.

Left's Blindness

Op-ed: How can the Israeli author slam rabbis who back 'price tag' thugs, as he legitimizes an Arab lawyer who called Israel a 'Nazi monster'?

Get off Benjamin Netanyahu's case. He is not in control of the government. The Likud's Knesset faction is a faction of radical settlers. Netanyahu is nearly the most leftist person in the Likud's Knesset faction.

The real government in Israel is controlled by the rabbis of the territories, and there is one person to blame for this situation. His name is Yair Lapid, and he has the power to bring this government down whenever he pleases.

The names "price tag" and "hilltop youth" are embellished names. We must look the monster in the eye and call it by its name. We wanted to be a nation like all nations. We hoped that one day there would be a Hebrew thief and a Hebrew prostitute.

We also have Hebrew neo-Nazi groups. There is nothing the modern neo-Nazis in Europe are doing that these groups are not doing here.

The only difference may stem from the fact that our neo-Nazi groups enjoy the support of quite a few nationalistic, perhaps even racist, lawmakers, as well as a few rabbis who provide them with a foundation which I see as pseudo-religious. This is, in my opinion, the great difference between the Jews and the Jews' words.

I considered the comments I made at Tzavta carefully. When I address an audience, I plan for hours and think about every word. I am a man of words. This is my profession.