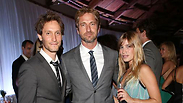 Actor Gerard Butler (center) with Israeli supernatural entertainer Lior Suchard
Photo: Getty Images
Only last week, the US State Department issued a travel advisory warning American tourists about the risks of travelling to Israel following the recent wave of terror. That didn't stop the Hollywood Reporter weekly from praising the city of Tel Aviv in an article titled "Why Tel Aviv is Hollywood's new billion-dollar Sin City."

Follow Ynetnews on Facebook and Twitter

"Over the last decade Tel Aviv has unveiled itself as a kind of glamorous new Sin City," begins the article written by Merle Ginsberg, who returned from a visit to Tel Aviv initiated by the Consulate General of Israel in Los Angeles. "The tantalizing beaches, cafes and nightlife, along with its unique mix of the Middle East with a Mediterranean party atmosphere, ensure the lifestyle-loving capital continues to buzz with energy."

"So how did this long-distance love affair between industry honchos and Tel Aviv — a connection that's spawned such shows as 'In Treatment,' 'Homeland,' 'Dig and Tyrant' — begin?" the writer asks.

Adam Berkowitz, co-head of one of Hollywood's top talent agencies CAA, which represents George Clooney, Brad Pitt and others, and the current chairman of the entertainment division of LA's Jewish Federation, attributes a lot of it to Federation trips for entertainment execs to meet local writers and directors.

According to the report, Hollywood stars often go to Tel Aviv for work, then return for pleasure: Actor Gerard Butler stayed with friends there, as did Ryan Gosling whose friends had to bail him out when his car stalled on the road to Jerusalem, and Madonna reportedly paid $20 million dollars for an apartment in a new Richard Meier-designed, all-white luxury tower.

Israeli-born actress Natalie Portman gets her facials at Yullia salon, while singing sensation Rihanna has enjoyed a green mud bath at the Dead Sea.

The major luxury hotels attract celebs and execs alike: Barbra Streisand took 100 rooms at the Dan Hotel, whose famous guests include Denzel Washington and Jon Bon Jovi, Demi Moore stayed at the David InterContinental and Justin Bieber took 30 rooms at the Sheraton.

But the big draw in the last few years, according to the Hollywood Reporter, are design-centric boutique hotels. Sean Penn stayed at the Norman on a recent visit, and Claire Danes resided at the Brown TLV whenever "Homeland" shot nearby.

World-traveling director Brett Ratner (who is responsible for films such as "Rush Hour" and "Hercules") calls Tel Aviv "the most cosmopolitan place I've ever been. A scene of cosmic proportions."

Ben Silverman, one of the executive producers of "The Office," loved Tel Aviv so much he got married there five years ago. "It's the utmost free open society – Christians, Muslims, Arabs, Jews... Even the Jews are from all different countries," he says.

Showtime CEO David Nevins arrived for the network's "Homeland" shoot but returned because he is in awe of Tel Aviv: "The place is a real 20th century city — ancient and modern."

"Tel Aviv is a very good investment: The economy's stable, and real estate prices have literally doubled in five years," says Israeli-born producer Avi Lerner, who lives and works in the United States.

In addition, the area dubbed "Silicon Wadi" (the Arabic word for "valley") has emerged as a digital mecca: According to the report, $1.7 billion of funding was tracked in 2014 alone.

"Tel Aviv's now a world capital," says producer Howard Rosenman, who has been spending winter holidays in Israel for more than a decade, as well as developing a number of homegrown projects.
'Hollywood has really tapped into it'
Ginsberg discovered a city which couldn't be more contrary with its image in the world: "People think we're still riding on camels!" one local told her. "They also think we're always at war — and it's not safe here."

Yet upon arrival, she says, one finds a bustling urban respite with all the things sophisticated seekers are hoping to find, and more. Motty Reif, a native producer and founder of Tel Aviv Fashion Week, is quoted as saying that 'Tel Aviv is the sexiest city in the world."

The reporter was highly impressed by the city's coastline: "There are no big waves along the 9-mile shore of Tel Aviv, but pristine beaches stretch from Herzliya to Jaffa. And unlike LA, the water's warm and everyone swims — there's even a religious beach for the ultra-Orthodox. Make sure you take the long promenade walk from Tel Aviv to Jaffa, but be prepared: There isn't much sunblock in this year-round temperate climate — Israelis aren't afraid of the sun (or aging apparently)."

And if that were not enough, the writer lauds the food offered by the city, which includes gourmet dining alongside street food like falafel and shawarma. Her recommendations include the Cantina, Blue Rooster and Dallal restaurants and Sarona Market, as well as bars and clubs, including the famous Bellboy cocktail bar at the Berdichevsky boutique hotel, Nanuchka and Shushu.

"Tel Aviv is a special place," declares Israeli actress-producer Noa Tishby, one of the first people to bring Israeli formats to America such as "BeTipul" ("In Treatment") to HBO. "So much joie de vivre, so much emotion — and Hollywood's really tapped into that."