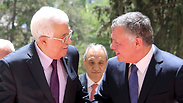 ראש הרשות הפלסטינית אבו מאזן פגישה עם מלך ירדן עבדאללה ב עמאן
Photo: Reuters
Jordan's King Abdullah II is scheduled to visit the Palestinian Authority on Monday to meet with President Mahmoud Abbas.

Fatah leadership member Mohammad Shtayyeh said this was "a visit of solidarity and coordination, which proves the Palestinians and Jordanians speak with one voice."

He was referring to the shared positions with regards to the Temple Mount as well as the American efforts to restart the Israeli-Palestinian peace process.

Jordanian officials told the newspaper Ad-Dustour that Abdullah and Abbas will discuss diplomatic issues relating, among others, to the developments at the Al-Aqsa Mosque.

The officials said the king will be accompanied by several senior Jordanian officials. Abdullah will first meet with Abbas privately at the latter's office and later hold an extended meeting including the king's entourage and Palestinian officials.

"The king wants to emphasize his support and his aid to the Palestinian president and the Palestinian people, and his and the Jordanian people's stance beside the Palestinian people and their leadership," one of the officials explained the purpose of the visit.

The King's last visit to the Palestinian territories took place five years ago.

The timing of the expected visit is as important as the visit itself. Abdullah's arrival at the present time is expected to give Abbas political support in a time when relations between Israel and the PA deteriorated due to Abbas' decision to sever ties with Israel, including security coordination.

The fact that Abdullah will arrive in Ramallah shortly after the incident in Amman—in which an Israeli security guard shot two Jordanian civilians—and after the Temple Mount crisis, two events that brought Israel-Jordan relations to a record low, constitutes a clear and meaningful statement to Israel.

Violent clashes at the Temple Mount (צילום: רויטרס, אסף מגל)

Earlier this week, King Abdullah ordered to allocate over $1.4 million to the Islamic Waqf at the Temple Mount to develop the Islamic museum located at the compound.

Abdullah's visit also comes amid growing pessimism in the PA with regards to the Trump administration's ability to restart peace talks, this following the cautious optimism the Palestinian leadership displayed in the first few months of the US president's term.

Earlier this week, Trump's son-in-law and senior advisor Jared Kushner, entrusted among other things with promoting the Middle East peace process, said in off-the-record remarks that were leaked that there may not be a solution to the Israeli-Palestinian conflict.

Meanwhile, Palestinian negotiator Saeb Erekat criticized the American administration for having yet to express support of the two-state solution and for failing to condemn Israeli construction in the West Bank.