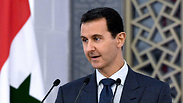 Arab-Sunni world rethinking its relations with Syria's Assad
Photo: EPA
Israel's missed opportunity with Sunni states
Op-ed: Israel had a golden opportunity to reach agreements with region's Sunni countries on future of Middle East and Israel's role in it. Unfortunately, someone waited too long, and now with Syrian President Assad's surprising survival, and Iran and Hezbollah's growing strength, Israel is recording yet another diplomatic failure.
The window of opportunity allowing Israel to become part of an Arab-Sunni axis against the Iranian expansionist threat—first in Syria and later the entire Middle East—is rapidly closing.

Russia's diplomatic and military achievements in shoring up the Assad regime, as well as Iran's expansion towards abandoned Islamic State strongholds in Syria, have led the Arab-Sunni world to rethink its relations with Syrian President Bashar al-Assad.

Public reports reveal, for example, Jordanian efforts to reach understandings with Assad's regime, including reopening the main crossings between Jordan and Syria for trade purposes, in addition to renewing the flow of intelligence between the two countries. This is just one example of the major failure of Israel and the US-led Western coalition in Syria.

Even more concerning, though, is that non-state entities intent on Israel's destruction have been working to join the Shiite axis. A recent example was presented by Shin Bet Director Nadav Argaman, who informed the Security Cabinet this week that Hamas was strengthening its ties with Iran and Hezbollah, a move with potentially far-reaching security implications.

The truth is that while relations between Hamas's military wing on the one hand and Hezbollah and Iran on the other have had their fair share of ups and downs, they have nevertheless persevered.

Now, in light of Iran's achievements in Syria, Hamas leadership in Gaza wishes to join the so-called "new leading forces" in the Middle East, and consequently has publicly declared its support for Assad and the new regional order created by the Russians and Iranians in Syria.

Hamas's leader in Gaza, Yahya Sanwar, stated earlier this month his organization's ties with Iran were not only back on track after years of difficulties, but were, in fact, more than excellent. Iran, he added, is the organization's military wing's most important supporter today.

And sure enough, according to foreign reports, Iran has been transfering some $70 million a year to Hamas's military wing in Gaza, while offering it logistic and technical aid. Members of Hamas's military wing travel to Iran and other countries, where they receive military training from Iranian instructors. In light of Sanwar's recent comments, these relations are only growing stronger.

The ties between Hamas, the Iranians and Hezbollah aren't natural, as the Gazan public—whose members belong to the Sunni denomination in Islam—remains hostile towards Iran, due to Iran's targeting of Sunnis in Iraq. The US policy's failure to produce results in Syria, however, coupled with the decreasing appreciation for the West, are forcing the region's countries, as well as non-state actors such as Hamas, to fall into the Islamic republic's arms, or at the very least try to broach dialogue with the Iranians.

The budding relationship between Hamas, Iran and Hezbollah is being overseen by Saleh al-Arouri, the head of Hamas operations in Lebanon. Arouri, perceived to be the guiding hand behind Hamas terror attacks in the West Bank, is close to Khaled Mashal, the organization's former political bureau chief, and the two serve as opposition to Hamas leadership in Gaza, led by Sanwar.

The rift between the two factions within Hamas is reflected in a conference currently taking place in Cairo, attended by more than 20 Hamas leadership members. While Sanwar is pushing towards leaning on Egypt and the United Arab Emirates, Arouri and his supporters are making a play towards joining the alliance between Turkey, Qatar and Iran. If Hamas crawls back into Iran's arms, it will invriably be at Egypt's expense and will be seen as a victory for the Mashal-led opposition. Arouri, by the way, wishes to become the deputy of Ismail Haniyeh, who serves as Hamas's political arm chief.

Israel never had the requisite tools, primarily diplomatic ones, to try and influence events unfolding in Syria. Having no other choice, it relied on the American-led coalition, which let it down. Now, five years later, as Iran is entrenching itself in Syria with the tacit approval of the Arab-Sunni coalition, the situation must be amended.

It really is a shame. Israel had a good chance of reaching understandings with a number of Sunni countries on the future of the Middle East and its role in the region, including an acceptable solution to the Palestinian issue with the Sunni world's leaders, but something went awry. Someone waited too long, played with the Saudis, played with the Jordanians, and was convinced the "miracle" of the Syrian civil war would last. But in the end, Assad wasn't toppled, the Iranians and Hezbollah have grown stronger, and Israel has notched up yet another diplomatic failure.