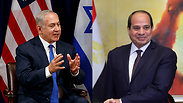 Prime Minister Benjamin Netanyahu met with Egyptian President Abdel Fatah al-Sisi in New York on Monday in what was their first public meeting since al-Sisi took office in 2014. The two have already had secret meetings and maintain close ties.
The two leaders discussed ways to renew peace talks between Israel and the Palestinians.
A statement from Netanyahu's office said the meeting, held at the Palace Hotel where al-Sisi is staying while in New York, was "comprehensive" and dealt with the "problems in the region."
According to a statement from al-Sisi's office, the Egyptian president stressed the importance of renewing peace talks in order to reach a just solution based on the idea of two states for two peoples.
Al-Sisi also thanked the Trump administration for US efforts on the matter, adding that resolving the Palestinian issue would create a new reality in the Middle East that would allow stability and security to all countries in the region.
The Egyptian statement also noted Netanyahu expressed his appreciation to al-Sisi for Cairo's important role in the Middle East, its fight against terrorism and its efforts to achieve stability and peace in the region.
Netanyahu and al-Sisi meet in New York (צילום: לע"מ)
Earlier Monday, al-Sisi met with Palestinian President Mahmoud Abbas to discuss attempts to jumpstart the peace process with Israel as well as efforts to achieve internal Palestinian reconciliation between Abbas's Palestinian Authority and Hamas in the Gaza Strip.
Netanyahu, meanwhile, met with US President Donald Trump for the third time this year at the Plaza Hotel in Manhattan. The Israeli premier expressed his desire for a tougher stance vis-a-vis Iran in a bid to frustrate its ambitions to produce a nuclear weapon.
During his meeting with Trump, Netanyahu mentioned his aim at abandoning the current deal with Iran. One of the most vociferous opponents of the deal, which was signed under Barack Obama's leadership, Netanyahu has in the past delineated what he believes should be the West's clear red lines on the issue.
"I look forward to discussing with you how we can address together what you rightly called is the terrible nuclear deal with Iran and how to roll back Iran's growing aggression in the region, especially in Syria," Netanyahu told Trump.
Netanyahu has recently expressed grave concern at Tehran's attempts to spread its influence throughout the Middle East, and particularly to Syria and along Israel's northern border.
Netanyahu also mentioned Israel was seeking out peace with the Palestinians and the Arab world in general, a goal that is encouraged by the US. Trump is scheduled to meet with Abbas later this week.
"As you said, we will discuss the way we can seize the opportunity for peace between Israel and the Palestinians and between Israel and the Arab world, I think these things go together and we look forward to talking about how we can advance both," Netanyahu to the American president.
Trump agreed with him, saying that they "are giving it an absolute go," and that "we're working very hard" to reach a deal between Israel and the Palestinian Authority.
While in New York on Monday, Netanyahu also held talks with a series of other world leaders, including Panamanian President Juan Carlos Varela, Japanese Prime Minister Shinzo Abe and Rwandan President Paul Kagame.