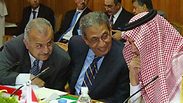 Arab League, April 2007
Photo: AFP
Amid diplomatic flurry, calls for regional Middle East peace
Analysis: With Israeli-Palestinian peace process effectively frozen, Palestinians increasingly favor a more regional approach, involving more moderate Arab countries such as Jordan, Egypt and Saudi Arabia. That way, should Israelis backtrack on the peace deal, they stand to lose not only peace with the Palestinians but normalization with the Arab world.
Many foreign leaders use the United Nations General Assembly's opening session in New York as a good opportunity to meet their counterparts and conduct some diplomacy in between the speeches and banquets. This year, Egyptian President Abdel Fattah al-Sisi and Israeli Prime Minister Benjamin Netanyahu held their first public meeting, although the two men have met privately several times. Analysts say that al-Sisi had very clear reasons for openly meeting the Israeli leader.

"There's a bit of tension in US-Egyptian relations with the Trump Administration withholding military assistance," Michele Dunne Senior Fellow and Director, Middle East Program at the Carnegie Endowment for International Peace in Washington told The Media Line. "He did it to please President Trump and some senators who have become increasingly displeased with al-Sisi. He wants the photo-op and to renew the story of Egypt as the peace partner of Israel."

For Netanyahu, it is an opportunity to remind his critics, both domestic and international, that he has forged close ties with Arab leaders. Netanyahu has embraced a strategy of trying to strengthen ties with Arab leaders of moderate states, including Saudi Arabia, Egypt , and Jordan, in the absence of any progress on the Israeli-Palestinian front.


During their meeting, al-Sisi said the two leaders had "a comprehensive discussion about the problems of the region," according to a statement from the Israeli Prime Minister's Office. Al-Sisi "expressed his desire to assist in efforts to achieve peace between Israel and the Palestinians and the region," it said.

Israeli-Palestinian talks were high on the official docket of the UN General Assembly as well. UN Secretary General António Guterres called on Israel and the Palestinians to renew talks for a two-state solution of Israel next to an independent Palestinian state in the West Bank, the Gaza Strip and east Jerusalem.

"We must not let today's stagnation in the peace process lead to tomorrow's escalation," he said.

The Israeli-Palestinian peace process is effectively frozen, and some Palestinians say they favor a more regional approach. In 2002, Saudi Arabia issued the Arab Peace Initiative which says that in exchange for a complete Israeli withdrawal from the West Bank, Gaza Strip and east Jerusalem, along with an "agreed and just solution" for Palestinian refugees, Israel would get peace with dozens of Arab and Muslim states.

The initiative was launched just one day after a Palestinian terrorist placed a bomb that killed dozens of Israelis celebrating Passover at a hotel. Israel responded by sending troops into West Bank cities, and any idea of a regional peace evaporated. However, the plan has since been ratified twice by the Arab League, most recently earlier this year.

Israel never officially responded to the initiative, although former Prime Minister Ehud Olmert unofficially welcomed it. He also held a series of informal discussions with Palestinian Authority leader Mahmoud Abbas over the plan. In the past, Israeli officials have allowed that the plan is an interesting starting point for negotiations, but insist that the plan as presented would compromise Israel's security. Making matters more difficult, sponsor Arab League insists the initiative be accepted "as is" with no negotiating on the core points allowed.

For example, it calls for Israel to withdraw completely from the West Bank, including the Jordan Valley, while many of Israel's military officials insist that control must be maintained over both areas even in any eventual peace agreement in order to ensure that nation's safety.

There are also differences over east Jerusalem, which Israel annexed in 1967. Most Israelis do not support a withdrawal from this area, which includes sites holy to Judaism and Islam such as the Western Wall and the al-Aqsa mosque.

When it comes to the return of Palestinian refugees, Israel has said they can only return to a future Palestinian state and not to their villages in Israel, most of which no longer exist. Olmert was reportedly willing to accept the return of 100,000 Palestinian refugees over a period of ten years. In 1948, an estimated 700,000 Palestinians either fled or were forced to leave their homes in nascent Israel. Today, 4.3 million Palestinians are registered for humanitarian assistance with the United Nations claiming refugee status based on the claim that they were uprooted from their homes in what became Israel. The Palestinians see this as a red-line issue.

Yet, despite these differences, Gershon Baskin, who has been involved in Israeli-Palestinian negotiations for decades, said the Arab Peace Initiative could still be relevant. "Although it is officially a Saudi plan, it is actually a Jordanian-Egyptian-Palestinian plan with Saudi backing to provide Israel with substantial incentives to resolve the Palestinian issue," Baskin, the author of the new book "In Pursuit of Peace in Israel and Palestine," which comes out next month, told The Media Line. "The initiative has actually increased in value after the fall of the Muslim Brotherhood and the threat perceived by the Sunni world from Islamic State and Iran."

Palestinians who support the plan want to make sure that they are not left out.

"The Palestinians support a regional agreement if it is part and parcel of Israeli-Palestinian peacemaking," Palestinian pollster Khalil Shikaki told The Media Line. "They do not want an agreement that excludes them."

He also said a regional peace deal offers extra benefits.

"Most Palestinians would prefer a regional approach over a bilateral agreement," Shikaki told The Media Line. "They think a regional agreement would help assure implementation of any deal. If the Israelis renege they stand to lose not only peace with the Palestinians but normalization with the Arab world."

At the same time, he said, his most recent poll shows that 75 percent of Palestinians do not believe that President Trump is serious about pushing for an Israeli-Palestinian peace deal at all.

Written by Linda Gradstein

Reprinted with permission from The Media Line.