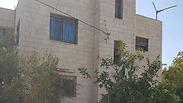 The terrorist's Beit Surik home
Photo: Elior Levy
The mourners' tent put up by the family of Nimer Jamal, who carried out the Har Adar terrorist attack, has been dismantled by the IDF which has already begun mapping the family home ahead of its planned demolition, an IDF Spokesperson's Unit said.

Forces from the Binyamin territorial brigade operated in the Biddu and Beit Surik villages, the latter being the terrorist's home.

Army engineers also worked with Shin Bet and Border Police forces to map out Jamal's home in Beit Surik and confiscated permits from some of his relatives.

IDF forces operating in Beit Surik Wednesday night (צילום: דובר צה"ל)

The IDF's announcement also said army and Border Police forces seized thousands of shekels in terror funds near Qalqilya and in the Jenin refugee camp.

IDF, civil administration and Shin Bet forces arrested 15 men in the West Bank overnight Wednesday, three of which were suspected of terrorism and violent clashes with civilians and security forces.