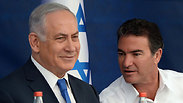 Netanyahu (L) and Cohen
Photo: Haim Tzach/GPO
Prime Minister Benjamin Netanyahu presented on Monday the Prime Minister's Citation to Mossad teams performing special, secret missions, marking the first time the award was given in a ceremony that is to become an annual tradition.

The mark of distinction was granted to entire units within the Mossad, rather than to individual operatives. "I salute you for the initiative, the daring, the professionalism, the planning and the execution," Netanyahu said during the ceremony which was attended by Mossad Director Yossi Cohen.

Netanyahu praised the operatives and said that behind the words of today's ceremony are "intelligence operations that respond to the main threats we face.

"Today we are giving citations to these intelligence operations," continued Netanyahu. "The Mossad works like a synchronized fist. All its parts are recognized (in today's ceremony—ed), and what is no less important, really, is the coordination with other bodies. I salute you, and I salute your families, who are an important part of your action."

Mossad Director Yossi Cohen also spoke at the ceremony, touching on renewed threats posed by Iran—which has reportedly been strengthening its forces in Syria, Lebanon, and with the terror organizations of Hamas and Hezbollah—as well as dealing with ISIS.

"The Mossad is growing stronger, with new capabilities with which to meet the future: in advanced intelligence technology, in building our strength, in human resource. All this is to be prepared for the challenges that stand before us in our mission to carry out covert Mossad operations for many more years," Cohen said.

"We carry out hundreds and thousands of operations every year," he Cohen. "Some of them complex and daring, in the heart of enemy countries."

Cohen also stressed that "it is important to remember that everything we do has to be done as human beings, with consideration, sensitivity and mutual respect for each other."

He concluded that "we are but another link in the chain of the life of our people, an ancient people that aspires to and must be an example to itself and to the world."