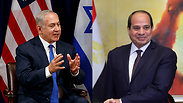 Netanyahu (L) and el-Sisi
Israeli delegation arrives in Egypt on heels of Fatah-Hamas reconciliation
Arab media outlets report an Israeli delegation arrives in Cairo by plane for a few hours, following Fatah and Hamas delegations' arrival in Egyptian capital for reconciliation talks; according to reports, they met with senior members of the Egyptian intelligence.
With Palestinian reconciliation talks taking place in Egypt between Hamas and Fatah-led Palestinian Authority (PA) representatives, an Israeli delegation has also arrived in Cairo. This according to reports by the London-based Arabic-language newspaper Al-Araby Al-Jadeed, as well as other, Egyptian news outlets.
According to the newspaper, the Israeli delegation arrived by plane for a few hours with the intent of meeting with senior members of the Egyptian intelligence apparatus.
Egyptian President Egyptian President Abdel Fattah el-Sisi linked current, internal Palestinian reconciliations talks to the progression of Israeli-Palestinian peace talks, during an Egyptian cabinet meeting this week; specifically, el-Sisi said that Egypt's aim in the Hamas-Fatah reconiliation process would prepare the ground for the establishment of peace between Israel and the Palestinian Authority (PA).
The reconciliation talks between Fatah and Hamas officially began on Tuesday, as the parties involved sat down to work on renewing relations between the Fatah-led West Bank and the Hamas-held Gaza Strip.
Last week, PA Prime Minister Rami Hamdallah was greeted by Gaza residents and Hamas officials as he entered for a historic visit of the Gaza Strip.
Hamdallah began his visit with a message of reconciliation, shortly after arriving in a 30-vehicle motorcade through the Erez border crossing separating Israel and Gaza. He was accompanied by a large delegation of Fatah officials from the West Bank-based Palestinian Authority, dozens of aides and armed bodyguards.
"The only way to statehood is through unity," Hamdallah said, speaking at a welcome ceremony attended by Fatah and Hamas officials. "We are coming to Gaza again to deepen the reconciliation and end the split."
Hamas' delegation in Cairo is represented by top ranking officials from Gaza and abroad, such Hamas Leader in Gaza Yahya Sinwar and its military commander of the West Bank Salah al-Arouri.
Hamas spokesman Fawzi Barhoum said the talks with Egypt will focus on alleviating the blockade and mending a longstanding rift with rival group Fatah, headed by Western-backed Palestinian President Mahmoud Abbas, Fatah Central Committee member Azzam al-Ahmad, and the head of Palestinian intelligence Service and a close confidant of Abbas', Majed Faraj.
The split between the two Palestinian factions was the result of Hamas' violent coup in the Gaza Strip in 2007. Extreme sanctions recently imposed by Abbas on Gaza, though, have forced Hamas to consider a reconciliation.