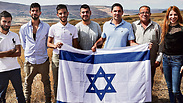 Young Arabs against BDS. A refreshing change
Israeli Arabs are breaking their silence
Op-ed: Subject to threats and intimidation, a delegation of young Arabs is joining the battle against BDS, representing the silenced majority of Israeli Arabs which has become an integral part of Israel in almost every field. Thanks to them, the battle for equality, social justice and reconciliation between the nations has a better chance of succeeding.
On Sunday, a delegation of young Israeli Arabs joined the battle against the apartheid lie and the BDS libels. Such a delegation—on behalf of Reservists on Duty, an organization which is already active on US campuses—is definitely a refreshing change, which sparks not only curious and sympathetic reactions but also threats and a smear campaign. One of the delegation members was forced to leave his home, and another member nearly quit following the pressure.

Who represents Israel's Arabs? Is it Knesset members like Hanin Zoabi and Jamal Zahalka, who are undermining the State of Israel's existence and who Labor Chairman Avi Gabby refuses to collaborate with in a future coalition, or is it these young people who have decided to break their silence?

On the one hand, most Israeli Arabs vote for the Joint List, which includes strife mongers. On the other hand, that same Arab majority integrates into the labor market, joins national service in growing numbers—although the strife mongers refer to the volunteers as "lepers"—and even rejects any option of being part of the Palestinian state, if one is established. Israel's Arabs may want to be defined as Palestinians, but are unwilling to be part of the Palestinian state. They know why.

The views the delegation members are about to present on US campuses are not the views of a small and detached minority. On the contrary. A series of surveys, from polls conducted by Prof. Sammy Smooha to polls commissioned by the Israel Democracy Institute, offer similar findings. For example, 57 percent of Israel's Arabs define their situation as good or very good and 58 percent feel part of the state and of its problems. The most significant figure is that 51 percent of the Arabs are proud to be Israelis. Proud, no less!

Who are the Arabs who are given center stage in Israel's public discourse? We know the answer. Ninety-nine percent of the comments in Israel and in the world represent the radical decile which is closer to Zoabi and to Sheikh Raed Salah. These are usually blasphemous and hostile articles which include groundless arguments that have nothing to do with reality.

Israel's Arabs, for example, are in the midst of an ongoing gap-closing process in terms of income and education. But to hell with the facts. After all, the apartheid libels have an enthusiastic audience in the media, cultural and academic circles around the world. So there's always someone to deliver the goods.

In practice, Israel's Arabs are in a much better situation than any Muslim minority in Europe, and definitely in a better situation than Arabs in the neighboring countries. They're aware of that. Every examination of measurable parameters will prove it. They have much more freedom and equality, and more equality has to be fought for. But those who get center stage, in the world and in Israel, are engaging in endless lying. They need, after all, budgets from George Soros and from Europe. So they must curse. It's a profitable investment.

The intimidations and threats directed at the delegation members were expected. A radical minority is always dominant on social media. There's no need to panic. Young Muslims in Europe, who fight anti-Semitism, are also forced to hide sometimes following threats from the extremists. Despite the threats, the delegation members represent in many senses the silenced majority of Israeli Arabs, the majority which has become an integral part of Israel, in almost every area.

It's not that there are no cases of discrimination phenomena. Of course there are, because Israel—like every country in the West—has a radical minority, and there are remnants of institutionalized discrimination. But Israel, even with the current right-wing government, is making an effort to raise the level of equality through huge investments in the Arab population.

The government has made mistakes. The Nationality Bill, for example, is unnecessary legislation. But the positive things completely outweigh the negative ones.

And one more thing. A young Arab from the Galilee, the son of a good friend of mine, arrived in France four years ago, learned the language and began studying at Sorbonne University. He heard so many false stories about Israel there. Occasionally, he tried to argue that the stories were inaccurate. The violent reactions made it clear to him that he had better keep quiet. He gave up and came back.

Now, there are young people who are willing to speak up despite the threats and intimidation. They deserve every blessing. The battle for equality and social justice and reconciliation between the nations has a better chance of succeeding thanks to young people like them.