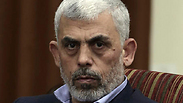 Gaza's Hamas leader Yahya Sinwar claimed on Tuesday that Hamas' military wing was in good shape, adding that, as of today, they are capable of firing at Tel Aviv in 51 minutes as much as they had fired at it in all 51 days of Operation Protective Edge.

Sinwar then reiterated that Hamas would not give up their arms in the framework of the reconciliation agreement between them and Fatah.

"The Palestinian people are still at the stage of national liberation, we cannot give up our weapons at this stage," he said. "The weapon of resistance is not the property of Hamas or its military wing, but of every Palestinian resident in Gaza."

Earlier, Palestinian Authority President Mahmoud Abbas said he would not agree to the presence of militias in the Gaza Strip within the framework of the reconciliation.

Sinwar only replied that Hamas is committed to the unity agreement. "If Fatah has 20 percent of the seriousness we have about the reconciliation, then the divide will end. We found out that they had more than required during our discussions."

Many in the defense establishment are concerned about developments in the Gaza Strip. As part of its warming relations with Hamas, they reasonably assume that Iran will want to help Hamas produce precision missiles in Gaza.

The process involves the conversion of simple rockets—by means of GPS tracking components—into missiles capable of striking with deadly precision.

During Hamas' recent visit in the Iranian capital of Tehran, advisor of Iranian Foreign Minister Hussein Sheikh Al-Islam assured that "whatever Hamas asks for and Iran can give, it will."

In recent weeks, senior Fatah officials, led by PA President Mahmoud Abbas, have reaffirmed that they will not accept a reconciliation agreement without full security control over the Gaza Strip.

The agreement, however, was signed without any mention of Hamas' disarmament or forfeiture of their security control over the strip.

Last week, US President Donald Trump's special Mideast envoy Jason Greenblatt said if Hamas wants to play a role in any Palestinian government it must renounce violence and commit to peaceful negotiations with Israel.