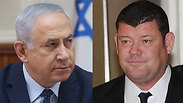 Netanyahu (L) and Packer
Photo: Marc Israel Sellem, AFP
After months of unsuccessful attempts to set up an inquiry of Australian billionaire James Packer over the illicit gifts affair (also known as Case 1000)—concerning illicit gifts Prime Minister Benjamin Netanyahu and his wife Sara allegedly received—Israel Police investigators finally managed Tuesday to gather his testimony on the case.

Australian police detectives briefed by Lahav 433 officials questioned Packer over his alleged gifts to the Netanyahu couple, while policemen from the Israeli unit listened in on the interrogation, Hadashot News reported.

Up until recently, investigators settled for the testimony of Hadas Klein, the personal assistant of both Israeli businessman Arnon Milchan and Packer, who testified earlier this month that the gifts were never offered by the two billionaires, but were requested by Prime Minister Netanyahu and his wife.

"Sara would ask for boxes of six or 12 bottles of champagne," she said. "Bibi (Netanyahu—ed) would ask for cigars and also know about the quantities of champagne his wife received. The driver of the company would travel especially to Jerusalem to supply the cigars and champagnes."

As for the question of payment and its distribution, Klein said that Milchan set a cost distribution for gifts between him and Packer. She also testified on the widespread use of Packer's home by Netanyahu and his family.

"The Netanyahu family used to use Packer's pool and asked his household manager to prepare food for them, even when he was not there," she stated.

Last year, Channel 10 News reported that Packer hosted Netanyahu's son Yair at his apartment in Tel Aviv, paid for several vacations he went on and even took him to his US estate.

Raviv Drucker, the journalist who announced Yair's lodging arrangements, also revealed that a few months ago, Packer's lawyer, Jacob Weinroth, met with Interior Minister Aryeh Deri and asked him to use his authority to grant Packer permanent residency in the country. Weinroth, who at times also represents the prime minister, said that Netanyahu did not speak with him on the subject. The Ministry of the Interior has yet to provide an answer to Weinroth's request.

At the end of September 2015, the Prime Minister and his entourage flew to the UN General Assembly in New York. According to the same report, "Yair Netanyahu also flew to New York and stayed at the Greenwich Village luxury hotel in the city, which is Packer's permanent hotel. Whenever he comes to town he rents in it several rooms that are connected to each other."

Packer then reportedly wrote to one of his friends: "I just spent five hours with Netanyahu, we went through the speech he was about to deliver and he left me a copy. I was told that I would join the Prime Minister's entourage and sit next to Sara at the UN General Assembly. It is a great honor. Now I'm on my way back to Greenwich Village to see Yair who arrived at night. He will spend a few days in the room."

Another case described in the same report concerns the performance of Packer's former partner, renowned singer Mariah Carey, in Israel in August 2015. It showed a picture of Yair Netanyahu with Carey and Hollywood director Brett Ratner, who co-founded the RatPac-Dune Entertainment production company with Packer.

According to the investigation, "Packer spent tens of thousands of shekels on tickets to Carey's performance, ten of which he handed over to Sara Netanyahu for free."