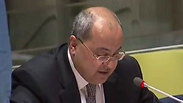 MK Ahmad Tibi (Joint List) attacked Israel and a UN-held celebration of the 1947 Partition Plan vote which led to Israel's Declaration of Independence, saying it is hypocritical of the state to celebrate such an event while denying Palestinians independence.

Speaking at a United Nations convention held in observance of the International Day of Solidarity with the Palestinian People, Tibi panned Israel for what he says are discriminatory acts.

"Instead of working for equality, peace and acceptance of the other, the Israeli government promotes the Nationality Bill that speaks of self-determination only for Jews and establishes communities without Arabs," said Tibi, adding that "the Joint List is working together with democratic Jews against the flood of these laws in order to bring about a better life."

Tibi, who was one of the main speakers at the event, also attacked the conduct of Israeli security forces and "policemen who killed innocent and holy Palestinians are still walking freely."

He listed the names of Arab residents he claimed were wrongfully killed by Israeli forces, including: 22-year-old Khair al-Din Rouf Hamdan from Kafr Kanna, who was shot by police after violently threatening them with a knife; 50-year-old Yaqub Abu al-Qiyan from Umm al-Hiran, who was shot after police mistakenly thought he was about to commit a ramming attack; and 27-year-old Muhammad Taha, who was shot by a civilian security guard during violent riots that broke out in Kafr Qasim.

"We have recently heard proposals by the US for mediation in a peace agreement, but we cannot accept a solution that does not include a Palestinian state with Jerusalem as its capital," Tibi said.

"Israel seems to have succeeded in thwarting the two-state solution, and therefore there is no choice but to discuss the outline of one state with civil equality for all," he added.

The MK went on to slam Israeli singer Ninet Tayeb, who performed at the celebrations her renditions of Naomi Shemer's "Jerusalem of Gold."

Ninet Tayeb singing 'Jerusalem of Gold'

"Jerusalem today is made up of checkpoints, bullets and occupation. Neither light nor gold," Tibi said. "Naomi Shemer wrote that the city square is empty, and ignored the Palestinians who prayed in the streets."

Tibi then claimed that "the poet Tamim al-Barghouti was more accurate when he wrote: 'To establish an independent Palestinian state so that all of us, Palestinians and Israelis, enjoy peace, light and progress, and so that the entire region will enjoy it."

Israeli ambassador to the UN Danny Danon criticized Tibi's comments, saying that "it is a disgrace that a Knesset member defames Israel at the UN and goes against the celebrations for its establishment."

Danon added that "attempts by anti-Israeli elements to exploit the UN platform to harm us will not help. On (Wednesday) night we again proved the great support we receive from our many friends around the world, with US Vice President Mike Pence and dozens of ambassadors coming to celebrate with us."