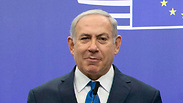 PM Netanyahu's in Brussels, Monday
Photo: AP
Netanyahu: Iran eyes sending 80,000 Shiite fighters to ME
In press briefing before concluding European trip, PM Netanyahu says Iran seeks to shore up Syrian entrenchment, intends to use 80,000 Shiite fighters to 'spark religious wars anew'; in prior statement to 28 EU foreign ministers, Netanyahu chides them to 'stop pampering Palestinians', says Palestinians need 'reality check.'
Prime Minister Benjamin Netanyahu warned Monday of Iran's entrenchment in Syria, as his official visit to Paris and Brussels was winding down.

"If Iran makes good on its threat, it will do so by utilizing 80,000 Shiite fighters, which will cause religious wars to erupt again," Netanyahu said in a press briefing before returning to Israel.

Earlier Monday Netanyahu convened with the European Union's chief diplomat Federica Mogherini, after which he proceeded to attend an informal breakfast with 28 of the EU's foreign ministers, which the Lithuanian foreign minister organized without Mogherini's knowledge.

"I stressed we have to find a new discourse on the region," Netanyahu explained to the ministers before chiding them to "stop pampering the Palestinians."

"I think the Palestinians need a reality check. You have to stop cutting them slack. That's the only way to move forward towards peace," the prime minister opined.

Netanyahu also denied to the ministers the allegation settlements were at the heart of the Israeli-Palestinian conflict, saying, "They consider the real settlements to be in Jaffa. Trump merely told them the truth."

When the ministers asked him if Israel was willing to undertake certain actions to improve Palestinians' lives, Netanyahu replied, "I told them we already were: on matters relating to water, work permits and—in the future—creating a train line transporting good from Haifa to the Arab world through the bridges over the Jordan and a linkup to Jenin."

In his meeting with Mogherini, Netanyahu said it was time for most of the European Union's member countries to follow in the Unites States' footsteps and recognize Jerusalem as Israel's capital.

The American president's recognition of Jerusalem did not hinder peace efforts, Netanyahu said, but allowed them to move forward. "Trump put the facts squarely on the table, and recognizing reality is the substance of peace.

"It's time that the Palestinians recognize the Jewish state and also recognize the fact that it has a capital. It's called Jerusalem.

"It has been the capital of Israel for 3,000 years, since it was founded by King David. We've never lost our bond to it, and yet this bond is being denied in United Nations forums and in laughable UNESCO (United Nations Educational, Scientific and Cultural Organization) decisions seeking to deny history and historical truth.

PM Netanyahu's press conference with Mogherini (צילום: רויטרס | עריכה: אביתר כהן)

"Jerusalem has been the capital of the Jewish state for 70 years. Peace is predicated on reality and or recognizing reality. I think the fact Jerusalem is Israel's capital is completely obvious to any of you who have visited Israel," the prime minister said.

"Europe and Israel are partner significantly on three major areas: security, prosperity and peace. On security, Israeli intelligence has prevented dozens of terrorist attack, many of them on European soil, and I think the lives of many people were saved thanks to that cooperation, so well-known to the security services of many European governments," Netanyahu added at the joint press conference.

Prior to Netanyahu's remarks, Mogherini said the EU will continue respecting international consensus on Jerusalem and made it clear she nevertheless denounced any attacks in Europe against Israel or Jews.

The EU's foreign minister also noted she gave her full support to King of Jordan Abdullah II's peace initiative. "The only realistic solution to the Israeli-Palestinian conflict is predicated on the two-state solution with Jerusalem as a shared capital," Mogherini elucidated.