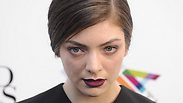 New Zealand singer Lorde
Photo: EPA
Singer-songwriter Lorde announced Thursday she was reconsidering her planned Israeli performance following a massive outcry from her fans, who have beseeched her to not perform in Tel Aviv.

New-Zealander Lorde was slated to perform in Tel Aviv this summer, it was revealed earlier this week, and similarly to other instances of big-name artists announcing Israeli dates, she too received a torrent of criticism from fans and Boycott, Divestment and Sanctions (BDS) activists who attempted to convince her to renege on her decision to perform.

The 21-year-old Kiwi crooner responded to the criticism levied against her on Twitter Thursday, and said she was "considering all options."

"Noted!" the singer wrote on her Twitter account. "Been speaking to many people about this. Thank you for educating me, I am learning all the time too."

Lorde's announcement came following an open letter addressed to her by two fellow New Zealander women, an Arab named Nadia Abu-Shanab and a Jew named Justine Sachs, in which they asked her to cancel the planned concert.

"Dear Lorde, we're two young women—one Jewish, one Palestinian," the pair wrote. "Today, millions of people stand opposed to the Israeli government's policies of oppression, ethnic cleansing, human rights violations, occupation and apartheid. As part of this struggle, we believe that an economic, intellectual and artistic boycott is an effective way of speaking out against these crimes. This worked very effectively against apartheid in South Africa, and we hope it can work again."

"We can play an important role in challenging injustice today," the open letter further said. "We urge you to act in the spirit of progressive New Zealanders who came before you and continue their legacy."

While Lorde's announcement of her Israeli tour date received widespread criticism, some also voiced their support in saying politics should not be mixed with music and art.

Lorde's performance was planned to take place June 5, 2018, at the Tel Aviv Convention Center.

The young singer has now become yet another name in the long list of artists criticized for performing in Israel, and facing attempts to dissuade them from doing so.

Perhaps the most prominent member of the list is rock band Radiohead, who publically corresponded with Roger Waters and other members of the BDS movement last summer before going forward with their performance this past July in Tel Aviv's Yarkon Park.