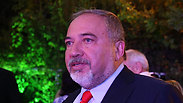 Minister Avigdor Lieberman
Photo: Ohad Zwigenberg
Poll: 41% of Israelis back Lieberman's Wadi Ara boycott call
New poll conducted at behest of Yisrael Beytenu ahead of Sunday's party convention shows slender majority opposed to Lieberman's call to boycott the Israeli Arab area in wake of violent riots; 43% dissatisfied with functioning of government; stats indicate Lieberman prefered candidate to head the defense ministry.
Just shy of forty-one percent of Israelis support Defense Minister Avigdor Lieberman's controversial proposal to boycott the Israeli Arab region of Wadi Ara which he made following a violent protests in the area in which rioters hurled at police cars and buses, according to a new poll conducted at the behest of his Yisrael Beytenu party.

Out of a total of 612 participants in the poll, representing a wide spectrum of Israeli society, 40.9% of people said they supported the idea, while 41.9% said they were opposed to it.

During the riots that triggered call for boycotts, a Yedioth Ahronoth photographer Gil Nechushtan also came under attack by Arab rioters.


Both Jews and Israeli Arabs slammed Lieberman's proposal and criticized his assertion that the residents of Wadi Ara were not part of the State of Israel.

The survey was conducted by the polling group "Markets Panorama" aheaf of the Yisrael Beytenu party convention for the municipal council elections set to be held in November 2018.

The party was satisfied with the results of the fresh statistics that indicated that if elections were held today, their party would receive 9 mandates.

Likud would receive 24, while Yesh Atid would receive 19 and the Zionist Union 17. The Arab Joint List would bag 13 mandates, while the Bayit Yehudi party would lag behind with 10 mandates.United Torah Judaism would clinch 8, while Kulanu and Metretz would enjoy just 7 each and Shas 6.

Responding to the poll question to what extent they were satisfied with the functioning of the government, 43% of participants answered they are either extremely dissatisfied or not particularly satisfied. Thirty-one percent said they were satisfied or extremely satisfied.

Lieberman could also celebrate the findings of the poll which showed that he is considered the most suitable man for the position for defense minister.

After the participants were presented with a list of hypothetical candidates to fill in his post, Lieberman himself came in first, bagging 21.5% of the approval rating for the position while his predecessor, Moshe Ya'alon, gained half a percentage point less with 21%.

Gabby Ashkenazi scored 20.2% of the approval rating and Ehud Barak scored a mere 10.5%, just missing last place to Naftali Bennett, who scored 8.5%.