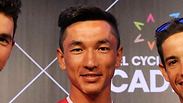 Pro Turkish cyclist Ahmet Örken
Photo: Veloimages
Turkish cyclist star quits Israeli team over Jerusalem controversy
Professional Turkish cyclist Ahmet Örken asks for, receives release from Israeli team to join Turkish cycling group, citing pressures on his family after President Trump recognized Jerusalem as Israel's capital; 'I took the decision to not worry about my country, my family,' Örken says.
One of Turkey's best known professional cyclists has joined a homegrown Turkish team after quitting his Israeli outfit due to the controversy generated by the US decision to recognize Jerusalem as the capital of Israel, reports said Tuesday.

Ahmet Örken, who will now cycle for Salcano Sakarya Buyuksehir in the Turkish Black Sea region of Sakarya, cited pressures on his family following the Jerusalem recognition as the reason for his departure.

Turkey, led by President Recep Tayyip Erdoğan, has strongly opposed President Donald Trump's recognition of Jerusalem as the Israeli capital, calling a summit of Islamic countries that declared east Jerusalem the Palestinian capital.

Ankara has full diplomatic ties with Israel, although the relationship is only now recovering from the deadly 2010 storming by Israeli commanders of a Turkish vessel bound for Gaza after its passengers brutally attack the Israelis as they descended with metal bars and other weapons. Erdoğan has in recent weeks bitterly criticized Israel.

"It was a difficult period in the last two weeks," Örken said, quoted by the Dogan news agency, as he signed the contract in Sakarya on Monday.

"I took the decision so as not to worry about my country and my family. This is a decision that I have taken myself," said the multiple Turkish time trial champion.

Israel Cycling Academy, the Pro Continental team with whom Örken had signed a two-year agreement in September, said it had agreed to release Örken from his contract.

"While we are disappointed by his decision, we only want what is best for him and his family. The doors of Israel Cycling Academy will be open for Ahmet and we certainly hope to see him rejoin us," said the team's general manager Ran Margaliot.

The team cited Örken as saying his family in the Anatolian Turkish city of Konya—a religiously conservative area—had "found themselves in a dire situation."

The issue is far from the only controversy for the Israeli cycling world after Trump's move with disputes also raging over the decision to start the 2018 Giro d'Italia from Jerusalem.