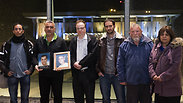 Several of the terror victims who signed the letter
Photo: Yoav Dudkevitch
Terror victims urge PM to pass bill to stop PA salaries to terrorists
200 Israelis, either wounded or who lost loved ones in terror attacks, send letter to Netanyahu asking him to advance bill freezing transfer of tax money to the Palestinian Authority until it halts financial aid to terrorists and their families.
Two-hundred terror victims—both those wounded in attacks and those who lost loved ones—sent a letter to Prime Minister Benjamin Netanyahu on Sunday demanding that he promote legislation seeking to put an end to salaries paid to terrorists by the Palestinian Authority.

Among the letter's signatories are Sarah and Eliezer Rosenfeld, who lost their son Malachi in a shooting attack; Yehuda and Tal Ben-Yishai, whose daughter Tamar Fogel was murdered along with her family in the massacre in Itamar; and Michal Salomon, whose husband, sister-in-law and father-in-law were murdered in a stabbing attack in Halamish.

Data reported in April 2017 revealed that from 2013 to 2016, the Palestinian Authority's financial support of terrorists and their families increased by NIS 125 million (some $36.3 million). In 2016, the PA paid a total of NIS 1.1 billion (some $319.65 million) to terrorists and their families.

A bill proposal sponsored by Yesh Atid MK Elazar Stern seeks to freeze the transfer of Palestinian tax money Israel collects on behalf of the PA until it ceases to financially support terrorists.

Stern's bill proposal was tabled in April and passed in a preliminary Knesset reading, but has since been sluggishly advancing through the legislative process.

Meanwhile, a bill proposal seeking to ease restrictions on capital punishment to terrorists is being rushed through the Knesset due to pressure from Defense Minister Avigdor Lieberman, who made the matter a flagship of his party's platform in the last elections, with posters draped throughout Israel during the campaign explicitly calling for the death penalty for terrorists.

The terror victims accused the coalition of delaying Stern's bill. "Is the Israeli government, led by you, trying to avoid passing the legislation?" they asked the prime minister in their letter. "Every minute this bill doesn't get approved in the Knesset is a minute that increases the potential for the killing and murdering of Israeli citizens."

They urged Netanyahu to advance and pass Stern's bill, saying "It's almost unbelievable this absurdity has been going on for decades. On the one hand, the State of Israel is fighting terrorism with everything it's got, sending its finest men and women to protect the citizens of Israel and endanger themselves day and night, investing most of its resources in eliminating terrorism—while on the other hand, Israel itself transfers millions every year to the Palestinian Authority, for it to continue financially supporting terrorism."

The terror victims argued that unlike the controversial death penalty for terrorists bill, there is "consensus among defense establishment officials, past and present," that Stern's bill "would be effective in preventing terrorism."

"A testament to that is the fact all former defense officials who are serving in the Knesset, from all factions, signed on and lent their support to the bill proposal," the terror victims wrote in their letter.

"There is no doubt that the salaries being paid to terrorists constitute a significant consideration in young Palestinians' decision to carry out an attack, knowing that they or their families would enjoy the blood money the Palestinian Authority hands out to anyone who murders Israelis."

The Knesset's Foreign Affairs and Defense Committee is scheduled to discuss Stern's bill on Tuesday.

"I've spoke to the chairman of the Foreign Affairs and Defense Committee, MK Avi Dichter, and with the defense minister, and I have reasonable cause to assume they understand the absurdity in stonewalling this bill," MK Stern said Sunday.