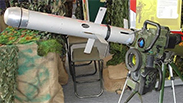 Rafael's Spike antitank missiles
Report: India mulling upholding lucrative missile deal with Israel
After backing out of $500 million antitank missile deal with Rafael, Indian government considering pressing ahead through government-to-government route, with PM Netanyahu's upcoming visit to the country; official says deal fell through due to Rafael's refusal to provide India with manufacturing technology.
A little more than a week after backing out of its deal with Rafael Advanced Defense Systems to purchase 8,000 Spike anti-tank guided missiles (ATGMs), India is now considering pushing ahead with the purchase through the government-to-government (G-to-G) route, according to a report in the Indian Express newspaper.

Prime Minister Benjamin Netanyahu will be traveling to India next week for a state visit, as part of which he will also be broaching the subject of strengthening security ties between Israel and the subcontinent.

India planned on purchasing the missiles for its military at a cost of $500 million, the original proposal said, in a contract drafted between the Indian army and Rafael.

The Indian government, it was reported, was now examining the possibility of purchasing them from Israel through the G-to-G route, as it has done in a deal with the French government to procure fighters jets, official sources said.

Indian media outlets published the Indian Defense Ministry's intentions of backing out of the deal in November. The original framework was for India to procure 8,000 Spike ATGMs and 300 launchers.

Official sources told Indian media Rafael's bid faced an uphill battle after the company refused to commit to fully moving production technologies to India.

The Israeli defense company won the missile tender in 2015, with its missile beating out American and European offerings in trials held by the Indian army. After the deal's cancelation, however, the Defense Ministry contacted local laboratories and asked them to develop similar missiles using local technology.