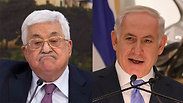 PA President Abbas (L) and PM Netanyahu
Photo: AP, EPA
Netanyahu: Abbas tore off mask, without change in position there will be no peace
Responding to speech by Palestinian Authority President Abbas, PM Netanyahu says, 'Root of conflict between us and the Palestinians is their steadfast refusal to recognize the Jewish state in any borders whatsoever'; on recent IDF attacks against tunnel, Hamas positions, PM says, 'You can see we have not been attacking dunes.'
Prime Minister Benjamin Netanyahu retorted Monday during his state visit to India on comments made the day before by Palestinian Authority President Mahmoud Abbas, who called Israel a "colonialist project that has nothing to do with Jews." Netanyahu said, "He has revealed his true beliefs. He has torn off the mask and shown to the public the simple truth that I have been working to instill for many long years: The root of the conflict between us and the Palestinians is their steadfast refusal to recognize the Jewish state in any borders whatsoever."

According to Netanyahu, Abbas's speech "helps us present the truth. Because if we ever want to achieve reconciliation and peace, we have to understand why the conflict has been so protracted. That is always secreted away and I've been working for years to try and instill in people the basic truth, that the root cause of the conflict is the Palestinian refusal to recognize a Jewish state in any borders."

"It has finally been exposed in his speech, and serves our political goals more than almost anything else. Without a change in Abbas's professed stance, there can be no peace. When I speak with world leaders (Monday), that will be clearer than it was yesterday," the prime minister said.

In his speech before the Palestinian National Council Sunday, Abbas did not spare President Donald Trump, also launching a scathing attack against the perceived American intention of cutting aid to the Palestinians, in light of their alleged refusal to participate in peace talks.

"I see a tweet on Twitter," Abbas said and quoted, "'We will not give the Palestinians money because they refuse to negotiate.'"

Swearing at the president, Abbas said, "May your house come to ruin (an Arabic epithet—ed). Where did you offer that to me? On the phone? On television?"

"We say to Trump, we will not accept his deal. The deal of the century has become the slap in the face of the century," Abbas quipped.

Netanyahu's response to the Palestinian president's statements was, "I think Abbas is doing what he's doing because he apparently fears a US-led peace initiative. He's trying to remove the Americans from their capacity as mediators and replace them with someone else.

"For too long, the Palestinian Authority has been coddled by the international community, which dared not to speak truth to them—not on Jerusalem, not on recognizing Israel and regarding other measures and demands made by them. They have always gotten a soft touch, and now that's changed. It's the first time somebody told the truth to their faces," Netanyahu stated.

The prime minister further added that Iran was a main item on the agenda of his talks with Indian Prime Minister Narendra Modi. "A substantial portion of our conversation dealt with Iran. I described the threat it poses, its behavior and its aspirations to accede to hegemony over the Muslim world and all Muslims.

"On the nuclear agreement, I told the European foreign ministers—as well as to other European leaders on other occasions—to take President Trump seriously. There were some who thought he would never back out of the agreement and that it was just bluster. I told them that I suggested they take what he says very seriously," Netanyahu recollected.

"I think after his statements Friday, people are starting to understand—perhaps a little late—that that is where things stand. This is the powers' final opportunity to amend the agreement," Netanyahu cautioned.

On the Gaza Strip situation in light of the collapse of the terror tunnel near the Gaza-Egypt border, Netanyahu said that, "We work in accordance with our security interests. We cannot accept attacks against us from Gaza by Hamas or any other entity. We consider Hamas responsible for any attack launched from Gaza."

"Our policy has remained unchanged. Moreover, you can plainly see the IDF has not been attacking sand dunes. As you can see, this policy ended up bearing fruit. You might get into a scuffle from time to time, sometimes even operations, but there's no such thing—under my leadership—for fire to 'trickle' into Israel," Netanyahu declared.

"Gaza's biggest problem," he said, "is not the entrance and exit of goods, but that Hamas is not interested in building the requisite infrastructures the populace so sorely needs, such as power, water and sewage. When you talk about collapse, these are the systems that are collapsing. It's absurd for the State of Israel to have to deal with the most basic needs that the Hamas regime has simply neglected."
Rivlin: 'Abbas has forgotten many things'
President Reuven Rivlin also commented on Abbas's speech to say Monday, "What we heard last night from Mahmoud Abbas was terrible. He went back to ideas he had expressed decades ago that were no less terrible. Abbas has forgotten many things, and reiterated precisely the things over which he had been accused years ago of anti-Semitism and Holocaust denial."

Public Security Minister Gilad Erdan said, "His speech was awful. Saying that Israel is a result of the Western world's conspiracy and that the Jewish people have nothing to do with the land of Israel? He knows full well the Koran recognizes Israel as our land and without this recognition, we cannot build trust and move forward."

"Abbas is destroying any shred of a chance for peace when he chooses incitement against Israel and Israeli heritage instead of recognizing Israel as a Jewish state. Abbas will continue destroying, and we will continue building and strengthening our sovereignty," Erdan vowed.

Zionist Union Chairman Avi Gabbay also lent his opinion on the matter, tweeting, "Abbas's speech is grave, deceitful and contains anti-Semitic canards. We must not, however, be confused and we must not focus on what the Palestinians say. The Zionist dream is one of initiative. Before or after Abbas's speeches, separating from the Palestinians is within the Israeli national interest."

Gabbay's fellow Zionist Union member MK Tzipi Livni said, "Abbas's fraudulent speech will not change Zionist history and can't ascertain our future. Israel was founded despite the Arabs' resistance and Israel has to take the initiative to remain the nation state of the Jewish people, without annexing millions of Palestinians, whether Abbas wants it or not."