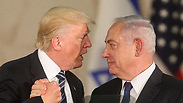 Prime Minister Benjamin Netanyahu and US President Donald Trump
Photo: AFP
Two weeks ago, it was the book Fire and Fury—a bill of indictment against the American president. A week later, the "sh*thole countries" comment was leaked.

Almost simultaneously, the Wall Street Journal reported that a lawyer had arranged a $130,000 payment for an adult-film star as part of an agreement precluding her from publicly discussing an alleged sexual encounter with Trump. The latest report joins a long list of sexual harassment complaints and disgusting comments.

In the past few months, it has been happening in Israel too. One report after another about neurotic behavior at the Prime Minister's Residence, about illicit gifts and about demands and pressure to receive another expensive present, which the billionaire friend hadn't planned on giving.

The highlight was the recording of the prime minister's son, which included comments that shouldn't have been made in light of the education that Yair Netanyahu—according to his father—received at home. The only reason the comments were made was because "the boy" was intoxicated. That's possible, but Netanyahu Jr., a public figure, definitely wasn't drunk when he was led into a strip club. It wasn't a one-time lapse either. It was a regular habit.

If these were different politicians, they wouldn't have lasted a single day. They would have been unable to bear the shame. It's so humiliating, so embarrassing, that the only way out would've been to submit a letter of resignation. But Trump and Netanyahu? Don't make them laugh. They always pull out the accusation that the media is out to get them. That they are being persecuted. That they are the victims. Poor people. They're not the ones who are corrupt; it's those who dare to report their actions.

On this background, Knesset Member Oren Hazan is already fantasizing about becoming prime minister. After all, someone is paving the way. Netanyahu's other associates are either offering support or keeping silent. Nearly none of them have chosen to issue a clear and unequivocal condemnation—apart from one, Minister Yuval Steinitz, in another rare display of courage. The rest are consumed by fear.

A long list of right-wing journalists are shamefully provide excuses to defend the leader. And the few right-wing journalists—both in the US and in Israel—who have mustered the courage to condemn are denounced as collaborators or even traitors.

Where are the religious, the evangelicals, the conservatives and the Haredim? These two officials have adopted such promiscuous norms that ethical, conservative and observant people should have been the first to stand up and condemn them. But no, they're exercising the shameful right to remain silent.

They are extremely concerned about a supermarket that opens on Shabbat. They'll even impose another stupid and unnecessary law on the majority. But a strip club on Shabbat? God forbid should anyone interfere with the needs of the prime minister's son. After all, he has to have a stripper on Friday evening. They won't get in his way. But they know that just like a criminal conviction can come without moral turpitude, moral turpitude can exist without a criminal conviction. But they're keeping quiet.

The important question is how the hell is this happening? How is it possible that these people can get away with anything? How is it possible that they're still enjoying considerable approval ratings? The public was well aware of Trump's conduct months before Election Day, but he didn't lose support. And the support for Netanyahu, what a disgrace, remains high.

The painful answer is that the animosity towards the media, the elites and political correctness is stronger. This animosity, I must add, is partly justified. I have expressed it myself time and again. But one wrong doesn't justify a bigger wrong. And anyway, public opinion polls in the US and in Israel are pointing at a change. The Israeli and the American Right is showing more than just signs of sobering up. These signs are the key to making a change, and that change will arrive.