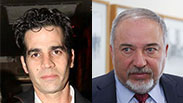 Aviv Geffen (L) and Defense Minister Lieberman
Photo: AFP, Anat Mosberg
Aviv Geffen blasts Lieberman in open letter over father's poem controversy
Joining his sister Shira, Aviv Geffen also scathingly criticizes Defense Minister Lieberman over his instruction to boycott his father and his work on Army Radio; 'So long as you're defense minister, Haniyeh and dad's poems can rest easy,' Geffen writes; controversy originated with poem by Yehonatan Geffen comparing Ahed Tamimi to Anne Frank.
Aviv Geffen, son of poet Yehonatan Geffen who compared Palestinian teen provocateur Ahed Tamimi to Anne Frank and was soundly criticized for it by Defense Minister Avigdor Lieberman, fired back at the Yisrael Beytenu chief Wednesday and said, "So long as you're defense minister, (Hamas chief Ismail) Haniyeh and dad's poems can rest easy."

Lieberman had blasted Tuesday Geffen's poem about Tamimi, also comparing the teen—who was indicted for striking IDF soldiers—to Hannah Szenes and Joan of Arc, and called on Army Radio to nether interview Geffen nor play his songs.

Geffen's son Aviv then retorted by writing, "I'm sure it has not been easy for you and my heart goes out to you. You've not only started chasing sheep (referencing Geffen's seminal children's songs book "The sixteenth sheep"—ed)—but lost to them as well."

"Your poll numbers are dropping and panic is rising, your secular agenda gets lost in the shuffle of the Supermarket Law and, above all, your threatening image—which helped you break out initially—holds no water in the Trump era and has made your deterrent force obsolete, soft and flaccid.

"My family includes one defense minister (referring to Moshe Dayan, whose sister was Aviv's grandmother), who saw Israel's security from afar despite only having one eye and who prevailed over the Arab countries. He was considered a hero, while you're a hero only when it comes to talking. When it comes to actions, the only thing you've succeeded in doing is being convicted of beating a boy, which—as it happens—is also the closest you ever came to a medal of valor.

"Instead of fighting religionization you battle poems, which—unlike the Haredi parties— don't hit back. Israel is also our home, not just yours, Stas's and Faina's (referring to former Yisrael Beytenu MKs Stas Misezhnikov and Faina Kirschenbaum, both of whom were indicted, and in Misezhnikov's case convicted, on corruption charges), so stop taking apart the panels in the stairwell and taking them home.

"You can argue on turns of phrase being more or less appropriate, but even if it's the least delectable dish it's still on democracy's menu, on both (political) ends.

"Apart from the fact dad was an officer in the Paratroopers Brigade, he's also a poet and a satirist. Yes, Avigdor, there really is a job in criticizing and needling the place where you live. In Israel it's (still) called 'freedom of speech,' or as you call it—or, more accurately, 'spin it'—an 'Israel basher.'

"It's our duty to preserve and uphold the right to protest, even if it is not congruent with our personal opinions.

"Vysotsky's poems (referring to Soviet poet Vladimir Vysotsky) overcame dark regimes despite the fact they were boycotted. Artists, as you well know, are a little like the defense ministers of words, and we remain vigilant against those digging dark tunnels of boycotts and silence."
Shira Geffen: 'The defense minister is flexing his muscles. We can sleep soundly'
Aviv's sister Shira Geffen was the first to strike back at Defense Minister Lieberman in defense of their father, writing a poem addressed to the minister Tuesday.

Geffen's poem said, "The defense minister is reading poems

The defense minister is reading its lines, and whoever isn't straight, he'll make sure to straighten out

The defense minister protects the land of Israel from texts that he

Does not understand, because what is not understood is dangerous

The defense minister guards the soldiers in songs, so they will not be harmed, and so their honor will not be trampled upon

He will not hesitate to send them to the occupied territories to guard the settlers, to die in wars, but

Never ever ever

Will he abandon a soldier in a song. This is a red line that must not be crossed

When a soldier is slapped in a song, it will resonate forever

Unlike those who die in wars—them they bury and forget

The defense minister is flexing his muscles. We can sleep soundly."

The affair began Monday, when Yehonatan Geffen published the aforementioned poem on his Instagram account. In response, Lieberman instructed Army Radio Commander Shimon Elkabetz to stop interviewing Geffen or playing his songs on any of the station's broadcasts.

Attorney General Avichai Mandelblit, however, determined Lieberman had no authority to offer such instruction.