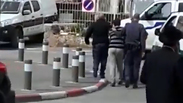 The hacker hauled back after being caught
Photo: Motti Crystal
The 19-year-old hacker from Ashkelon who was arrested for sending false bomb threats to institutions around the world attempted Monday to escape from custody.

After the hearing, the hacker, along with four other detainees, was taken to the so-called "Russian Compound," an interrogation and detention center in Jerusalem's Old City.

The hacker was supposed to be temporary detained there until being transferred to Nitzan Prison & Detention Center in Ramallah, where he is imprisoned.

The hacker hauled back after being caught (צילום: מוטי קריסטל)

The vehicle stopped at the entrance to the detention center at around 12:30, when the hacker apparently succeeded in opening one of his leg shackles with an improvised lock pick and broke out of the vehicle.

On his way out, the hacker pushed one of the jailers, injuring him, and fled.

Two Israel Prison Service officers immediately gave chase and managed to tackle and drag him back to the vehicle.

The suspect is currently on trial for making hoax bomb threats against Jewish community centers in the United States, Australia, New Zealand and Israel for several months.

He is also suspected of making false bomb threats against several airlines, forcing several emergency landings from 2015 up until 2017, and even extorting several political figures for monetary gain.