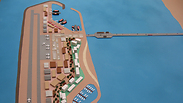 The artificial island planned off the Gaza coast to ameliorate the humanitarian crisis there
Cabinet mulls artificial island for aid transfer to Gaza
As situation in strip becomes increasingly dire, heading towards massive humanitarian crisis, government to examine MK Katz's proposal to construct artificial island near Gaza for import of vital goods, to be inspected by Israeli security; Israel also ready to provide gas, employment, water, if international donors foot the bill.
Prime Minister Benjamin Netanyahu has directed his cabinet to look into Transit Minister Yisrael Katz's proposal to construct an artificial island across from the Gaza coast to allow aid to be delivered from the island to Gaza itself.

Katz's plan—and Netanyahu's consideration of it—came in the wake of the ever growing humanitarian crisis the strip faces, with chronic shortages of food, clean water, medications and fuel, which prompted senior security officials to call on the government to urgently deliver aid to the enclave.

Israel believes that Hamas is not interested in conflict at the moment. However, if hundreds of thousands of Gaza residents take to the streets to protest harsh living conditions, Hamas might be inclined to create a conflict with Israel in order to redirect their wrath and its own responsibility for the people's woes at Israel.

A simulation of the island

"If Hamas senses that it is in existential danger and that the protests are out of control, the only way for them to extricate themselves would be to direct the fire at us," warned a cabinet minister.

For the moment, protests in Gaza have not expanded but there is an increase in infiltrations by Gazans who prefer Israeli prisons where they are at least guaranteed to be fed.

The Gaza unemployment level is hovering just below 50 percent, whereas unemployment among youth is even higher. Most of the available water is polluted, as Gazan officials lack the skills to deal with sewage runoff while contaminated water makes its way into aquifers, the sea, beaches and the streets.

Residents only receive four hours of electricity a day and due to the lack of fuel for generators, two Gaza hospitals were shut down recently, one of them a children's hospital.

The aforementioned lack of electricity led to a lack in industrial output, which in turn decreased employment and purchasing power.

In the past, between 700 and 750 trucks delivered goods to the strip each day, but that number dropped to an average of 300-350 a day in January—not because Israel is limiting the amount, but for the simple reason that merchants have less need for merchandise as there are so few buyers.

In addition, Palestinian Authority (PA) President Mahmoud Abbas is not paying salaries to thousands of Gaza government bureaucrats, many of whom belong to the Hamas elite.

Since Operation Protective Edge in 2014, Hamas has refrained from launching rockets at Israeli towns on the Gaza periphery. The sporadic firings are the work of insurgent militia groups and Hamas is actually working to thwart them. Israeli retaliation, however, is directed at Hamas, which pays the price for its failure to halt rockets.
Donor nations discuss crisis
In light of the situation, the office of the Coordinator of Government Activities in the Territories prepared a plan to improve conditions for the people of Gaza. The plan was outlined by Minister for Regional Cooperation Tzachi Hanegbi at an emergency conference held by donor nations and initiated by Norwegian Foreign Minister Ine Marie Eriksen Søreide, in conjunction with Israel, in Brussels last week.

The conference was well attended: Palestinian Prime Minister Rami Hamdallah, Palestinian Foreign Minister Riad al-Malki, Water Minister Mazen Raneim and other Palestinian officials and professionals.

Also participating were the US Envoy to the Mideast Jason Greenblatt, Egyptian Foreign Minister Sameh Shukry, the foreign ministers of Jordan and Morocco, diplomats from Tunisia, Saudi Arabia, Kuwait and the United Arab Emirates as well as various European ministers.

Hanegbi presented the potential options: Israel is prepared to connect Gaza to the 161 fuel pipeline, which can double its electricity output. That would, however, require massive infrastructure improvements in the enclave to allow the power to be distributed to different cities, at a cost of $80 million.

Because such improvements will take time, Israel is prepared, as a gesture to the Palestinians, to allow the entry of an unlimited amount of generators into the Gaza Strip. Until now, any generator entering Gaza was taken by Hamas for tunnel construction.

The PA is supposed to carry out the project and purchase the generators with international donations as well as the fuel for their operation.
Long term solutions for water, fuel and electricity
Israel offered to build a water desalination plant in the middle of the strip, and the international community has already raised NIS 300 million for it, but an additional NIS 280 million is needed to cover its cost. The plant would supply 55 million cubic meters of water and solve half of the shortage. However, construction would take two years.

Israel is ready to connect Gaza to its natural gas pipeline, thereby lowering energy costs in the strip. This, too, would require infrastructure improvements in Gaza in order to receive the gas.

Israel offered to build a solar farm in Gaza and to supply residents with Israeli technology that can produce water from vapor in the atmosphere. There are also ideas floated regarding establishing industrial parks near the Erez Crossing that may serve as ex-territorial enclaves where Palestinians can work without being granted permits to enter Israel.

The above projects and ideas, attractive as they may be, require a billion dollar investment from the Palestinian side. Donor nations are willing to provide funds, just not to Hamas—knowing that the funds will instead go towards digging tunnels and buying weapons and military equipment.

Hamas announced that it was wiping its hands from the task of civil responsibility over the Gaza Strip. The PA, meanwhile, is unenthusiastic to take on the responsibility for Gaza's population itself, as it does not want to be Hamas's "contractor."

The Authority well realizes that such a scenario would only free up Hamas to build its terrorist and military capabilities, with the end goal being to wrest control entirely from the PA in the West Bank as well.

The PA, therefore, is ready to accept civil control over Gaza on one condition: that it take control of security in Gaza as well.

Israel has indications that President Abbas intends to increase the sanctions against Hamas. In such a case, with Hamas isolated and pushed to the brink, it will become closer with Iran and Israel can find itself dealing with the consequences.
Israel waits: Who will donate?
Minister Hanegbi told Ynet, "Because the situation can worsen, people may be pushed towards engaging in terror and we have no desire to see that… Israel is ready to provide its technological skills and infrastructure to prevent a humanitarian disaster in Gaza, on the condition that the funds come from the international community and that we know that they will not go to strengthen Hamas.

"We are waiting to see if the world is ready to donate," Hanegbi continued. "During the last donors' conference, the international community pressured (Abbas) to be flexible and not make a big deal over every small detail with Hamas, but rather to take responsibility and rebuild Gaza."

Hanegbi added, "We cannot know when it will blow up in our faces. As time passes, more complexity is needed in dealing with these problems. Especially with regards to energy infrastructure, employment, and health. The potential for deterioration is increasing."

According to Hanegbi, the funds given by Qatar to Hamas were all invested in military and terror activities including rockets. "Hamas does not want a conflict, but they did not want one by the last conflict either. Control is not always in the hands of those who think they are in control."

Cabinet Minister Naftali Bennett said that the government intended to allow anything that did not pose a security risk unlimited access to Gaza, but that anything else would not be allowed in.

"Hamas prefers to take the hundreds of millions (in donations) and invest in tunnels instead of schools and hospitals. Our interest is in quiet and that Gaza's citizens thrive, but our influence is limited. You can bring a horse to water, but you cannot force it to drink," Bennett said.

Meanwhile, the government is examining the proposal by Transit Minister Yisrael Katz to create an artificial island across from the Gaza coastline.

The plan includes creating an eight kilometer island that will be connected to Gaza by a 4.5km bridge, bookended by security checkpoints. The island, carrying an estimated cost of $5 billion, will include energy and desalination plants and a seaport, as well as an airport, eventually.

Minister Katz expressed satisfaction that his proposal was under serious consideration and the prime minister promised to bring it to Cabinet after its security ramifications are examined.

"Hamas is not interested in conflict, but reconciliation is faltering. Egypt is not providing funds, the US is cutting (the United Nations' agency for Palestinian refugees)'s budget. Hamas is at its lowest point and the world is not prepared to invest money in Gaza if it will go to waste," Katz said.

According to Katz, "It is of course a practical, not an ethical consideration, wether we are prepared to accept a humanitarian crisis in Gaza. When push comes to shove and someone must take responsibility, it is better that it be the world and not us. The island will provide Gaza's citizens with services. If they attack us, they will cut themselves off from water, gas and electricity."