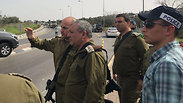 IDF Chief of Staff Gadi Eisenkot at a status evaluation
Photo: IDF Spokesperson's Unit
IDF to bolster forces as manhunt for Ariel terrorist continues
Father, other relatives of terrorist who murdered Rabbi Itamar Ben-Gal in Ariel Monday detained for questioning; regular forces taken off drills, training to support forces in vicinity of Nablus in light of manhunt, clashes; Ben-Gal's widow calls to declare Har Brakha a city, Education Minister Bennett concurs.
The IDF will send more forces to the Nablus region Thursday to assist in the manhunt for terrorist Abed al-Karim Adel Assi, who murdered Rabbi Itamar Ben-Gal in Ariel Monday.

Several of the terrorist's relatives, including his father, were detained for questioning in the last 24 hours, with additional effort exerted on gathering intelligence to locate him.

Several of the army's regular service regiments will be taken off their training and drill duties and moved to the region to bolster forces already on the ground, following a status evaluation held at Central Command and in light of recent attacks and riots.

The forces will be deployed and will operate in the coming days in territorial brigades in the Samaria region where friction hotspots proliferate.

Two days after the attack that took her husband's life, Ben-Gal's widow Miriam sought solace in the tragedy that befell her family. "I think the only consolation I can find is seeing our community growing and developing, and becoming a city.

"Let them know that their actions lead to the Israeli people's development and strengthening in the Land of Israel. And let it be the last blood spilled."

"Itamar was vivacious and full of love for all," his widow said. "He loved his community, his people and his country. He always thought about ways of improving the settlement, nurturing and developing it."

Education Minister and Bayit Yehudi Chairman Naftali Bennett visited the family for a condolence visit Wednesday, and joined the call to declare Har Brakha a city. "The murder's goal is to cause despair and break our spirit. Beyond the reply soon to be provided to the terrorist himself, the true reply is tripling your settlement and declaring Har Brakha a city.

"An urban planning scheme is awaiting approval, it's merely a political decision. I'm taking it upon myself to work to triple this community's size to send the message that we are here to stay."

"In our 120 years of settling, many cities were unfortunately founded in reply to a murder," Bennett added. "Kiryat Shmona, Ma'ale HaHamisha—they were all replies. More families, more children, more schools, more communities and more homes. When they see this thing growing, they will realize they're banging their heads on concrete walls and wasting their time."

Miriam's father, Rabbi Shlomi, then addressed the education minister. "This cannot be merely a request by the widow or the family. Let it be the Israeli government saying, 'Let our enemies know that if they try to cause harm, Havat Gilad will be declared a settlement and Har Brakha a city.' That needs to be the policy, let them know it in advance."

On a related matter, about a week after two suspects were caught attempting to infiltrate the Itamar settlement in the West Bank disguised as soldiers, the suspect who was successful in making his getaway turned himself in to the Civil Administration, and admitted the two planned on carrying out a terrorist attack.

The infiltration was foiled by IDF forces, with one of the suspects arrested on the scene and the other escaping, with scans carried out to locate him.

The suspect was transferred to security forces for questioning.