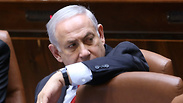 Prime Minister Benjamin Netanyahu. On his way down
Photo: Alex Kolomoisky
Police recommendations are beginning of Netanyahu's political demise
Op-ed: As of Tuesday evening, it's clear the prime minister's investigations weren't about a few cigars provided by friends, but about a bribe totaling about NIS 1 million; it's unlikely the State Attorney's Office will turn the tide, and it's hard to believe the attorney general will be able to evade the bomb waiting on his doorstep.
When Prime Minister Benjamin Netanyahu began his speech Tuesday evening, it seemed for a moment as if he was going to announce his resignation. Why would he mention the highlights of his life, including his service in the elite Sayeret Matkal unit and his participation in a 1972 operation to rescue a hijacked Sabena plane, if it won't lead up to the dramatic moment in which he steps down?

But had that happened, it wouldn't be Netanyahu. He is not the person to lay down the keys and resign without his hand being cut off first. It soon turned out that, although similar, this isn't Ehud Olmert's resignation speech. Netanyahu didn't build the narrative known as "There will be nothing because there is nothing" for a year and a half only to let it come crashing down in a single evening. We are talking about a well-built narrative that is supposed to continue serving him for a long time, even after the police had their say.

And the police definitely had their say. Even the "scowling commentators," who were mocked by Netanyahu in his speech at a Likud rally, sat in the studios slack-jawed. It turns out there is a lot more to it than what meets the eye. And even those who went very far in their assumptions regarding the police recommendations were surprised to discover the size of the holes in the affair they thought they knew everything about.

Dramatic details—from Yair Lapid's testimony to the "Milchan law"—were unknown, while estimates regarding Case 2000 were lenient. Despite criticism and suspicion, the police did their job. And the fact that there was a supervising attorney the entire time only corroborates the recommendations.

As of Tuesday evening, it's clear that this isn't just about takeaway trays or a few cigars—gifts provided by friends—but about a bribe totaling about NIS 1 million and a return. It's unlikely that the State Attorney's Office, which received the police recommendations on Tuesday, will turn the tide, and it's hard to believe that the attorney general will be able to evade the bomb waiting on his doorstep. This is all too serious for someone or something to castrate it due to interests, pressures or fears.

Unlike what part of the public may think, this wasn't a happy evening. There is no malicious joy when it concerns your prime minister, and in my case and my colleagues' case, our publisher too. it's a difficult moment for Israel's citizens, and a difficult moment for us, Yedioth Ahronoth journalists. Bribery is a serious offense, and no one likes to hear that such serious suspicions are threatening the integrity of their home. I believe that even those who have been writing against the Netanyahu government for years and warning of corruption would rather see him step down in a dignified and quiet manner.

But there will be no dignity and definitely no calm here. Netanyahu gave us an example of that in his speech Tuesday evening, acting like a person heading down a slippery slope and trying to hold onto everything he encounters on the way.

On his way down—and yes, he is on his way down—he is holding onto everything he can grab: the police's recommendations, half of which end in nothing; the heavy shadow he believes is hanging over his investigations, making them biased; Olmert, who Netanyahu says initiated the "Milchan law"; former Finance Minister Yair Lapid, "who, by the way, is Milchan's good friend," who promoted it; late Justice Minister Yaakov Neeman; late President Shimon Peres; the 47 Knesset members who acted on the Yedioth publisher's behalf.

All these people were mentioned in Netanyahu's speech as if absentmindedly, but are supposed to serve—against their will—as his bulletproof vest, as proof that he is only one link in a long chain.

Even the skeptics among us, those who believe Netanyahu can get himself out of anything, understand after Tuesday night that this is the beginning of the end. Despite Netanyahu's promise to run again in the next elections, which will be held on time, I doubt he actually believes it. He understands that even among his staunch supporters, not many are prepared to buy the version he tried to sell on Tuesday evening, that the police—led by Commissioner Roni Alsheikh—are plotting to depose him.

It was pitiable, not to mention pathetic, to see the prime minister present himself as someone who has worked his entire life for one purpose—the State of Israel's security and future—and how hard he works for this purpose, day and night, early in the morning and "when the red phone rings."

Was he trying to remind us, in his attempt to climb into a lifeboat, that he is the only one authorized and worthy of picking up the red phone? That there is no alternative to his experience, and that if he is forced to leave there will be no one to replace him in dire straits?

If the legal activity is to determine when Netanyahu ends his political life, it could take a long time, many months, perhaps not before the next elections. As we know, there is no law obligating Netanyahu to resign following the recommendations' submission, and not even after an indictment is filed.

A lot depends on the political system now: Will senior Likud members agree to let a man suspected of taking a bribe remain their party leader and their prime minister?

It depends just as much on the coalition party leaders. In a short while, when the polls are published, when the protests on the streets expand along with the "We're sick of the corrupt" signs, we'll find out what Kulanu leader Moshe Kahlon, Bayit Yehudi leader Naftali Bennett and Yisrael Beytenu leader Avigdor Lieberman think and how many Knesset seats will they be willing to risk to defend the prime minister.

Arnon Mozes is the publisher and owner of Yedioth Ahronoth Group, which includes Ynet and Ynetnews.