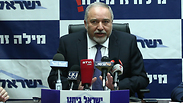 Defense Minister Avigdor Lieberman
Photo: Ohad Zwigenberg
Lieberman confirms IAF destroyed Hamas tunnel
After IDF announces Israeli jets attacked an 'underground infrastructure' in Gaza in response to Sunday evening's rocket fire at Israel, defense minister tells party IAF destroyed a terror tunnel near Kerem Shalom; tells Israelis in north and south they can 'return to your daily routine. We are absolutely ready.'
Defense Minister Avigdor Lieberman confirmed Monday afternoon that the Israel Air Force (IAF) attacked and destroyed a Hamas terror tunnel in the Gaza Strip overnight Sunday near the Kerem Shalom crossing.

The latest attack in Gaza came after a rocket fired from the strip exploded Sunday evening in an open area in the Sha'ar HaNegev Regional Council.

"The incidents proved that the IDF is ready for any scenario with zero warning," the Yisrael Beytenu party leader said during a faction meeting. "It wasn't easy to achieve this kind of capability but the fact is that we have stood up for the tests and we have known how to handle them."


Lieberman said that he wanted to send a message to Israel's southern and northern residents. "You can continue about your daily routine and we are absolutely ready and are doing everything to ensure that regularity continues without interruptions," he said.

Overnight, the IDF announced that Israeli jets had pounded an "underground infrastructure" in southern Gaza in response to the rocket emanating from the strip the previous night.

A statement issued by the IDF Spokesperson's Unit shortly after the IAF struck the target said: "Hamas is responsible for everything that happens in the Gaza Strip, above and below ground. The army will continue to act to ensure security for the citizens of Israel using all means at its disposal."

Also during the party meeting, Lieberman once again expressed his disapproval of Israel's return last week to the Palestinian Authority of a Palestinian who carried out a fatal terror attack in Har Hadar last September which claimed three Israeli lives.

"I think this is absurd, something which is absolutely unacceptable. Our hands are tied by High Court of Justice (HCJ) rulings and the Cabinet decided that at the moment we are awaiting an appeal by an expanded panel of the HCJ. Unfortunately, nothing can be done beyond that."

In addition to sporadic rocket fire that has plagued southern Israel in recent months, tensions were further heightened on the border when two soldiers were wounded Saturday afternoon when an explosive device was set off near an IDF patrol around the border fence in the southern Gaza Strip, opposite the Ein HaShlosha kibbutz.