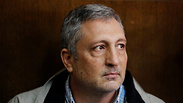 Filber, Hefetz testimonies make up complete picture of Case 4000
Former Communications Ministry director-general Filber provides police with information about the regulatory benefits given to Bezeq, while former PM media adviser Hefetz's testimony sheds light on what Netanyahu allegedly got in return—favorable coverage on Walla! News.
The testimonies given by state's witnesses Shlomo Filber and Nir Hefetz in the investigations against Prime Minister Benjamin Netanyahu corroborate one another, according to judiciary sources.

Police are investigating a suspected quid pro quo relationship between Netanyahu and Bezeq majority shareholder Shaul Elovitch.

Filber, the suspended director-general of the Communications Ministry, is providing testimony to support the evidence of regulatory benefits given to the telecommunications giant Bezeq.

Hefetz, Netanyahu's former media adviser, completes the picture with details about the return—the favorable coverage of the prime minister and his family on Walla! News, which is owned by Bezeq.

The judiciary sources revealed Hefetz was willing to become a state's witness at a much earlier stage of the investigation, but Attorney General Avichai Mandelblit decided to hold off for a few days, until he was convinced Hefetz could indeed deliver with testimony and evidence of the alleged bribery.

The sources further said that while Hefetz's claims about the alleged influence the prime minister's wife Sara and son Yair have on his decision-making process were the ones to make headlines, the evidence Hefetz provided police with concerns other matters entirely.

They also addressed criticism that Hefetz, whose state's witness deal provides him with full immunity, "got off lightly," saying the punishment he was facing was far less significant than the evidence he provided.

Hefetz and Filber are not the only state's witness in the cases against Netanyahu. The prime minister's former chief of staff Ari Harow was the first to sign a state's witness deal and is also providing police with evidence in all three cases.

Amid criticism of the growing number of state's witnesses, one judicial source noted that "when it comes to investigation cases against a sitting prime minister, there is an increased public interest in reaching the truth, particularly when it comes to investigations of public corruption. That is why making state's witness agreements with two suspects in the case is not unfounded."

Netanyahu is also a suspect in two other cases, Case 1000—in which he is suspected of receiving illicit gifts from rich benefactors, notably billionaire Arnon Milchan, in return for promoting Milchan's business interests—and Case 2000—in which he is suspected of holding talks with Yedioth Ahronoth owner and publisher Arnon Mozes, discussing favorable coverage for the prime minister in return for Netanyahu working promote legislation that would weaken Yedioth's rival Israel Hayom.

Netanyahu has repeatedly denied any wrongdoing in all of the cases. Police, meanwhile, have recommended indicting him, as well as Milchan and Mozes, in Cases 1000 and 2000.

The judiciary sources estimated Attorney General Mandelblit and State Attorney Shai Nitzan will make their decision on whether or not to indict the prime minister and if so, on what charges, on all three cases together, in a few months.

"All of the cases tell a similar story, and there is no point in splitting them," one source said.