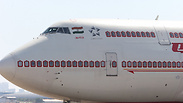 Air India
Photo: Motti Kimchi
India's national carrier has secured permission to begin direct flights between New Delhi and Tel Aviv that will pass through Saudi airspace, an official said Wednesday.

Air India spokesman Pravin Bhatnagar said the airline will start flying the route three times a week from March 22.

The airline's website showed options to book flights to Tel Aviv from New Delhi starting on that date, with fares starting at 24,124 Indian rupees ($371.94).

El Al Israel Airlines, the country's flag carrier, flies four weekly flights to Mumbai but these take seven hours rather than five as they take a route south towards Ethiopia and then east to India, avoiding Saudi airspace.



The move ends a decades-long ban by Saudi Arabia on the use of its airspace for flights to Israel.

Saudi Arabia and Israel have no formal diplomatic ties. The decision by Saudi Arabia to allow the Indian carrier to fly through its airspace to Tel Aviv reflects what is widely believed to be a warming of behind-the-scenes ties between the two countries.

Both are US allies with a shared concern over Iranian influence in the region.

Currently only the Israeli carrier El Al has flights that connect Mumbai to Tel Aviv.

The Air India flights will save flying time because of their shorter route.

El Al declined to comment on the news. The airline has reportedly objected to the Air India route, saying the shorter flights over Saudi Arabia put it at an unfair disadvantage.

India has been keen to map out speedier flight routes in Saudi skies to reduce the journey duration by around two hours by enabling it to fly west without the need take roundabout routes, thereby slashing costs on fuel and significantly increasing the number of tourists flying between Israel and India.

In addition, the new route would enable the airline to dramatically reduce the price of flight tickets and simultaneously stimulate competition among other airlines.

India and Israel have built close ties over the years away from the public eye, largely centred on arms purchases.

But under Narendra Modi economic ties have flourished and last year he made a first-ever visit to Israel by an Indian prime minister. Israeli Prime Minister Benjamin Netanyahu visited India last month, the first such trip in 15 years.

Itamar Eichner contributed to this report.