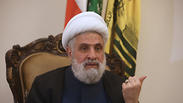 Hezbollah's Sheikh Naim Qassem
Photo: Reuters
Hezbollah doesn't expect Israeli war, but is ready for one
Hezbollah Deputy Secretary-General Qassem refuses comment on terror group's military capabilities, deployments or plans, not wishing to 'give gifts to enemy'; Hezbollah 'ready to confront aggression if Israel decides to carry out any foolish action,' he says; on Syrian civil war, Qassem says Hezbollah will remain in country until crisis is resolved; on upcoming elections, deputy leader says he expects increase in number of Hezbollah allies in parliament.
Lebanon's powerful Hezbollah does not expect its arch foe Israel to launch a war for now in Lebanon but is prepared for one, the deputy leader of the Iran-backed Shiite terrorist group told Reuters in an interview on Thursday.

As the war in Syria enters its eighth year, Sheikh Naim Qassem also said there was no end in sight to the conflict, which he said would go on for at least two more years, and that President Bashar al-Assad could not be forced out of an eventual settlement.

"There is no solution in Syria under the title of 'excluding President Assad.' On the contrary, the solution in Syria is with President Assad, and he is the mandatory channel for the solution," Qassem said.

The heavily armed Hezbollah joined the war in support of Assad in 2012, and has played a critical part in helping his government defeat Sunni rebels backed by the United States and its regional allies—Saudi Arabia, Qatar and Turkey.

Hezbollah has spearheaded a coalition of Tehran-backed Shiite militias that have deployed to Syria from Iraq, Afghanistan and Pakistan. Iran's expanding power in Syria has caused deep alarm in neighboring enemy Israel.

Israel has mounted numerous air strikes in Syria against what it has described as Hezbollah and Iranian targets.

Prime Minister Benjamin Netanyahu warned last month that Israel would not allow Iran to put a "noose of terror" around its neck and it could act not just against Iran's proxies, but Iran itself.

In Lebanon, where Israel and Hezbollah last fought a major war in 2006, Iran is helping the group build factories to manufacture precision-guided missiles or refit its longer-range missiles with precision guidance systems, Israeli and US officials say.

Asked about the Israeli accusations and warnings, Qassem said he would not comment on Hezbollah's military capabilities, deployments or plans.

"We don't talk about the military details, be it our capabilities or those of our allies, or our deployments, because they are secrets that we retain and we don't want to give a free gift to our enemy," he said.

Hezbollah "is ready to confront the aggression if it happens, if Israel decides to carry out any foolish action," he said. "But it does not appear that the circumstances are for an Israeli decision for war.

"We have declared repeatedly and frequently that we, as the resistance, work to have permanent readiness and are ready to confront Israeli aggression if it happens, and therefore we are ready to defend ourselves by all available means. We are working to fortify our front, and to be ready."
'Hezbollah will stay in Syria as long as necessary'
In Syria, however, he said it was possible Israel would conduct further "limited" attacks. "The Syrian regime has taken the decision to respond to this type of attack," he added.

Syria's air defenses last month shot down an Israeli F-16 as it was returning from a bombing run in Syria after Israel said Iran had sent a drone into Israeli air space.

Working closely with the Russian air force and Iran's Revolutionary Guards, Hezbollah has helped turn the tide in the Syrian war that appeared to pose a threat to Assad's rule as recently as 2015.

The conflict passed its seventh anniversary on Thursday, having killed half a million people, driven out 5.8 million as refugees and uprooted millions more in the country.

Qassem said Hezbollah would stay in Syria as long as necessary. If we reach a political solution, of course Hezbollah will return to Lebanon," he qualified.

Assad and his allies had won the war by defeating what he described as a US-led plot to destroy Syria, he added. "Syria has won the military battle, which will help them win the political battle," he said.

He added that Islamic State fighters who had sought to make Syria part of their "caliphate" had received a heavy blow and lost territories they held.

While Assad's rule is no longer in danger, large swaths of Syria remain outside his control at the borders with Turkey, Iraq, Jordan and Israel.

The United States has deployed forces into northern and eastern Syria, where it is allied with Kurdish-led militia known as the Syrian Democratic Forces. Turkey has also sent forces into the northwest.

Qassem, however, did not expect the Syria war to lead to a direct confrontation between the major powers.

"It is clear that all the parties and their allies view that it is in their interests not to have a direct confrontation between America and Russia, and they have rules of engagement that they have studied together and are abiding by," he said.
Hezbollah expects its allies to win more seats in Lebanon vote
Speaking about the upcoming parliamentary elections in his country, the sheikh said Hezbollah expected its allies to win more seats in the May poll, but does not expect any fundamental change in the balance of power in government.

The May 6 election looks set to deepen the strong political influence already wielded in Lebanon by the heavily armed terror group, which is backed by Iran and listed as a terrorist organization by the United States.

Lebanon's first parliamentary vote since 2009 will be held according to a new law that is widely expected to yield fewer seats for the Future Movement led by Prime Minister Saad al-Hariri, Lebanon's leading Sunni.

"Our ambition from these elections is not to increase the number of Hezbollah MPs. Our ambition is for there to be broader representation for our allies from different groups, sects and parties," Sheikh Qassem told Reuters.

"This law will certainly increase the number of MPs of Hezbollah's allies," he said.

Qassem did not say how many seats he expected Hezbollah and its allies to win in parliament, where the 128 seats are divided among Lebanon's 17 officially recognized religious groups according to a strict quota.

In the 2009 election, Hezbollah and its allies in the "March 8" alliance won fewer seats than Hariri's "March 14" alliance, which at the time was receiving strong financial backing from Saudi Arabia.

Since then, March 14 has largely disintegrated while Hezbollah and its allies have grown stronger, and Hariri's long-standing relationship with Saudi Arabia has become strained.

In 2016, Hezbollah ally Michel Aoun became head of state in a political deal that also made Hariri head of a government that spans nearly all of Lebanon's main political groups, including Hezbollah.

Last November, Saudi Arabia lost patience with Hariri's political accommodation of Hezbollah, forcing him to resign as prime minister and briefly putting him under house arrest in Riyadh, according to Lebanese officials.

Following French intervention, however, Hariri returned to Lebanon and retracted the resignation after his government reiterated its policy of staying out of regional conflicts.

Qassem said he expected only minor changes in the composition of the next government, but it was too early to talk about who would be the next prime minister—a post reserved for a Sunni Muslim in the sectarian system.

"The change in the shape of government and the way it is formed will be limited, but certainly it will be subjected to wider accountability by MPs because of the variety that will be in parliament," he concluded.