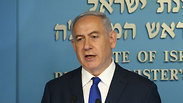 PM Netanyahu
Photo: Ohad Zwigenberg
Netanyahu absolutely right in annulling migrant deal
Op-ed: The deal with the UN's refugee agency was a bad one, which would have provided ample incentives for economically-minded migrants to infiltrate Israel in hopes of a better future here on in other Western countries; PM Netanyahu was therefore absolutely right to annul it and should be lauded for it, rather than criticized; if you're a true refugee, who is really persecuted in your country of origin, then asylum in another, relatively tranquil African country is a reasonable response to your plight.
Admitting a mistake is not zigzagging. Admitting a mistake is the right thing to do when a private citizen realizes they were wrong, and certainly when an elected official, whose decisions impact an enormous amount of people, realizes he was wrong.

Doubling down on a mistake only to avoid tarnishing a false image of leadership is, in fact, the act worthy of public denunciation. Prime Minister Benjamin Netanyahu's decision to withdraw from the agreement with the United Nations High Commission for Refugees, then, is worthy of all plaudits.

The annulled agreement was very bad, and could have set Israel seven years back when it comes to dealing with the problem of infiltration from African countries.

True, contrary to the situation in the beginning of the decade, a significant border fence exists today between Israel and Egypt. However, anyone thinking a fence alone can stop infiltration must not have ever visited, to cite just one example, the Judea and Samaria Seam Zone region.

Fence or no fence, hundreds—if not thousands—of infiltrators enter Israel every day, only in this instance they have been dubbed "illegal migrants." While the fence makes their lives a little harder, it in no way prevents them from coming in.

The phenomenon of infiltration was halted due to a combination of three disparate factors: the fence, the Islamic State in Sinai and, most importantly, a hard-line Israeli policy vis-à-vis infiltrators who have already made their way into the country, first with southern region detention centers and then—after laws on the matter were struck down by the High Court of Justice—expulsion to countries in Africa.

The story is a simple one: if you're a true refugee, who is really persecuted in your country of origin, then asylum in another, relatively tranquil African country is a reasonable response to your plight.

If you have chosen to immigrate for economic reasons, however—sound as those may be, as the economic situation in some African countries is deplorable—transference to another African country with similar economic standing is falling from bad to worse.

Once all infiltrators reaching Israeli could hope for was Uganda and Rwanda, incentives for economic immigration by way of infiltration of Israel were killed off.

The agreement with the UN's agency, however, which included a partial resettling of migrants in Israel and a partial transference to other Western countries—assuming it would have been implemented—would have changed the map of infiltration incentives completely.

Had Israel become a stopping point before continuing to Germany and Italy, it would have been incredibly worthwhile to try and infiltrate it.

It should be noted, although, that while the annulment was proper, the subsequent attack against the New Israel Fund was an unnecessary, stupid spin. The goal now should be devising a new policy bringing about the same end result: resolving the infiltration issue.

The problem is any new policy drafted may encounter the same old roadblocks put up by High Court justices, who have already terminated different arrangements for dealing with the matter in the past.

Putting together a new solution this time, then, must be accompanied by a redefining of relations between the High Court and the political system. Netanyahu will invest his political resources in that, it should be hoped, rather than futile struggles and useless inquiry commissions.