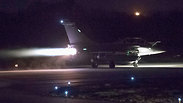 US fighter jets heading out to carry out attack
Photo: AP
Israel informed in advance of US strikes on Syria
Minister Gallant says strike—carried out by US, UK and France against Assad regime's chemical weapons facilities—sends 'an important signal to the axis of evil - Iran, Syria and Hezbollah'; Israeli official calls strikes 'justified' because of the 'murderous actions' of the Assad regime and Iran.
Israel has been notified US-led strikes in Syria ahead of time, Israeli and American officials confirmed on Saturday morning.
US, British and French forces hit Syria with air strikes overnight in response to a poison gas attack that killed dozens of people last week. US President Donald Trump said he was prepared to sustain the response until Assad's government stopped its use of chemical weapons.
Asked how much advanced warning Israel had received, an Israeli official told Reuters: "Between 12 and 24 hours, I believe."
Asked whether Israel helped choose targets, the official, who spoke on condition of anonymity, said: "Not to my knowledge."
The Israeli official said the punitive US-led strikes were justified because of the "murderous actions" of the Damascus government.
"Last year, President Trump made clear that the use of chemical weapons crosses a red line. Tonight, under American leadership, the United States, France and the United Kingdom enforced that line," the official said.
"Syria continues to engage in and provide a base for murderous actions, including those of Iran, that put its territory, its forces and its leadership at risk," the official added.
Western forces attack in Syria
Housing and Construction Minister Yoav Galant said the strike sends an "important signal to the axis of evil - Iran, Syria and Hezbollah."
"The use of chemical weapons crosses a red line that humanity can no longer tolerate," Gallant, a member of the security Cabinet and a former IDF general, wrote on Twitter.
The IDF has increased the level of alert among its forces on the northern border over the weekend, fearing harsh Iranian retaliation in the wake of the US-led strike as well as another strike earlier this week—which was attributed to Israel—of an Iranian drone base at the T-4 complex in Syria.
Israel did not deny or confirm any responsibility for the Monday attack, which killed 14 military personnel, seven of them Iranians.
On Wednesday Russian President Vladimir Putin spoke to Prime Minister Benjamin Netanyahu and urged him to do nothing to destabilize Syria, according to a Kremlin statement.
Israel has mounted air strikes in Syria on a regular basis, targeting suspected weapons shipments to Hezbollah.