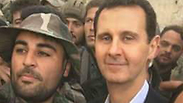 Syrian President Assad (R)
Assad can breathe easily
Analysis: Fearing a Russian response, Trump, May and Macron circumscribed their strike to chemical weapons research and production facilities. This was overly cautious, as so long as the very survivability of Assad's regime is not at stake, he will not be deterred from further use of such weapons. Israel, meanwhile, has realized it can count only on itself.
Syrian President Bashar al-Assad can breathe easily Saturday morning, as can his Russian and Iranian benefactors.

The strike landed overnight by the United States, France and Britain on chemical weapons facilities in Syria was too limited in scope to cause any lasting damage to the regime, and has certainly not exacted such a price so as to make Assad think thrice before deciding to deploy such weapons again.

Explosions over Damascus overnight

The Western allies did intend to deter Assad—to make it clear that using chemical weapons will cost him dearly, and that the international community will respond with force to any further violations of the treaty banning the manufacture and deployment of chemical weapons.

It can be determined now, however, that what took place will not achieve these lofty aims. It may be assumed—even before the full ramifications of the strike are known—that so long as he rides on Russia's coattails, Assad will not be deterred from using chemical weapons against his own people and possibly—in the longer run—against Israel as well.

The leaders of the US, Britain and France—Donald Trump, Theresa May and Emmanuel Macron—intended to give both Assad and Russian President Vladimir Putin a red card, but it turned out to only be a pale yellow.

True, the Syrian regime's higher-ups, Assad included, now realize that the West will not remain silent in the face of another chemical attack—even if it is carried out using chlorine gas, which is supposedly non-lethal (the attack in Douma last week was lethal possibly because it used an especially high concentration of chlorine against people in closed underground shelters).

The meager price the murderous regime was forced to pay, however, has also shown that so long as Assad enjoys Russian patronage, he can continue on his path undisturbed.

If the Western allies intended to send a a message of deterrence to Assad by circumscribed military action, it should be remembered Trump did just that, exactly a year ago, with 55 Tomahawk missiles launched at a Syrian airport under similar circumstances.

Assad ignored the previous strike, and double the number of missiles on chemical weapons facilities will not change his attitude. The message will continue falling on deaf ears, so long as the Russians are behind him.

Assad speaks only one language—that of might—and his regime's senior officials only fear one thing: loss of control over Syria. Anything short of threatening the regime's survivability is simply not considered a threat.

They prepared for a serious blow to the regime's symbols, possibly even a missile hitting Assad's presidential palace, the destruction of airstrips in major airports or of antiaircraft batteries, but none of that came to pass.

In addition, the Russians have cautioned against conclusions and ramifications, but it does not appear as if they actually intend on following through with their threats, as it does not appear Trump will make good on his threat to levy further economic and diplomatic sanctions against the Russian bear.
Far from the move Israel expected
The "one time shot" announced by US Secretary of Defense James Mattis hit only Syria's chemical weapons infrastructures and little else. It's far less than what could have—and should have—been done, especially considering the fact the targets hit do not threaten the regime's survivability or its ability to continue its victory tour over rebel groups.

If anything, those deterred are the Americans, French and British, who were overly cautious with their choice of targets out of fear of angering Putin. Defense Secretary Mattis and Chairman of the Joint Chiefs of Staff Joseph Dunford claimed the strike was limited to avoid harming civilians or other collateral damage.

In reality, however, the true fear was awaking the dormant Russian bear—which served as chief consideration when selecting targets and methods for the strike. The armaments dropped near Damascus and Homs overnight were indeed "nice, new and smart" as Trump tweeted several days ago, but their deterrence effect was nil.

Further footage from the strike on Syria

The strike overnight was heavy in the number of precise armaments the US and its allies launched at Syria. the sheer amount and weight of the explosives ensconced in the missiles and guided bombs exploding on the four scientific research installations and production, storage and control facilities for chemical weapons, were double those the US used last year in the aforementioned strike.

Even if we assume that the strike has achieved its goal, and not a single research lab or "medication factory" were left standing, Syria still has vast scientific knowhow to manufacture additional chemical armaments and dozens of scientists who have made unconventional arms their specialty.

Moreover, inventory for the production of such weapons and raw materials related to same are extremely easy to obtain on the international market under the guise of drug production.

If the West embargoes exporting such materials and machinery to Syria, Russia and Iran will fill the void created. The strike against the facilities, therefore, is a temporary setback at best and Assad will attain an arsenal of chemical arms again in short order.

These are not ill tidings only to the people of Syria, but to Israel as well. Those who used chemical weapons to kill their own people will certainly not hesitate to launch it against Israel if their regime's very existence was in peril.

The weak-willed Western response, then, for more than 50 instances of chemical weapons use by Assad, is far from the deterrent Jerusalem and other Middle Eastern capitals expected.

Israel, once again, has naught else to do but to count on its own power and prepare both offensive and defensive measures to ensure Syria does not cross the chemical red line vis-à-vis its neighbor to the south.