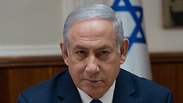 PM Netanyahu
Photo: Yoav Dudkevitch
PM Netanyahu iterates 'full support' for President Trump
In wake of US-led strike on Syrian chemical weapons facilities, PM Netanyahu lauds US, British and French commitment as 'not limited to proclamations of principle'; 'Assad's wanton disregard for international law, provision of forward base for Iran endanger Syria,' Netanyahu adds.
Prime Minister Benjamin Netanyahu commented Saturday evening on the American-led strike on Syrian chemical weapons manufacture and research facilities earlier in the day, tweeting, "A year ago, I declared Israel's full support for President Donald Trump's decision to take a stand against the use and spread of chemical weapons. President Trump's resolve and Israel's support remain unchanged."

"Early this morning," the premier continued, "under American leadership, the United States, France and the United Kingdom demonstrated that their commitment is not limited to proclamations of principle."

Launch of missiles at Syria

Netanyahu then directed his comments at Syrian President Bashar al-Assad, saying, "It should be clear to President Assad that his reckless efforts to acquire and use weapons of mass destruction, his wanton disregard for international law and his provision of a forward base for Iran and its proxies endanger Syria."

The United States, the United Kingdom and France fired more than 100 missiles at Syria early on Saturday in response to a poison gas attack that killed dozens of people last week, in the biggest intervention by Western powers against President Assad.

US Defense Secretary Jim Mattis and Marine General Joseph Dunford said three main chemical weapons facilities were targeted at 4am local time (1am GMT) by missiles from both the sea and aircraft, which triggered Syrian air defenses. Mattis said there were no reports of US losses.

The Pentagon said Saturday the airstrikes "successfully hit every target," rejecting claims by Moscow and Damascus that most Western missiles were intercepted by Syrian air defenses.

A global chemical warfare watchdog group said its fact-finding mission would go as planned in Douma, where the apparent use of poison gas against civilians on April 7 that killed more than 40 people compelled the Western allies to launch their attack. Syria has denied the accusation.

Putin said the US actions in Syria made the humanitarian catastrophe worse and caused pain for civilians.

"Russia in the most serious way condemns the attack on Syria where Russian military servicemen help the legitimate government to fight terrorism," Putin said.

He reaffirmed Russia's view that a purported chemical attack in the Syrian town of Douma that prompted the strike was a fake. Putin added that Russian military experts who inspected Douma found no trace of the attack.

He criticized the US and its allies for launching the strike without waiting for inspectors from the international chemical weapons watchdog to visit the area.

Moscow may consider supplying S-300 surface to-air missile systems to Syria and "other countries," Colonel-General Sergei Rudskoi told a televised briefing on Saturday.

Russia had "refused" supplying those missiles to Syria a few years ago, he added, "taking into account the pressing request of some of our Western partners."

Following the US-led strikes, however, "we consider it possible to return to examination of this issue not only in regard to Syria but to other countries as well," Rudskoi said.

President Assad, for his part, alleged the US, UK and France decided to attack after realizing they have lost control of the area and their credibility. Consequently, Syrian state television broadcast footage of many Syrians celebrating in the streets following the strike.