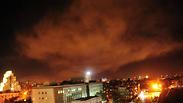 The US strike on Syria Saturday
Arabic-language media outlet reported Saturday evening that an explosion took place in one of the large storehouses used by Iranian forces in Syria—one located in Jabel Azzan in the southern suburbs of the Aleppo district. Several people were reported wounded and killed, including Iranian officers.

It was further reported by "field activists" that the blast was the result of a fighter jet's attack or missiles launched at the base.

Britain-based war monitor The Syrian Observatory for Human Rights corroborated the report, saying a huge blast was heard in a Syrian government-controlled area in a rural region south of Aleppo.

The Observatory said the cause of the explosion was unknown, as well as its target.

Several days ago, Iranian and Syrian regime forces evacuated the base out of fear of an American strike.

Word of the purported attack came less than 24 hours following a joint American, British and French strike on Syria, with several targets hit by more than 100 missiles.

Several targets in Damascus and its vicinity were hit, official Syrian sources said, including a research center and military base.

The Pentagon said the strike was a success, and that its efficacy was so great that it set back the Syrian chemical weapons program a decade.

The strike came in retaliation to chemical weapons allegedly used by Syrian President Bashar al-Assad's regime in Douma, on the outskirts of Damascus, last week.

Russia's response to the strike was scathing, with a statement put out Saturday morning on behalf of President Vladimir Putin saying it was a "violation of international law" that will "exacerbate the humanitarian disaster in Syria."

Moscow may consider supplying S-300 surface to-air missile systems to Syria and "other countries," Colonel-General Sergei Rudskoi told a televised briefing on Saturday.

Russia had "refused" supplying those missiles to Syria a few years ago, he added, "taking into account the pressing request of some of our Western partners."

Following the US-led strikes, however, "we consider it possible to return to examination of this issue not only in regard to Syria but to other countries as well," Rudskoi said.

President Assad, for his part, alleged the US, UK and France decided to attack after realizing they have lost control of the area and their credibility. Consequently, Syrian state television broadcast footage of many Syrians celebrating in the streets following the strike.