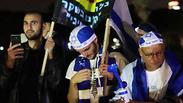 Protesters outside joint memorial event
Photo: Tal Shahar
Joint Israeli-Palestinian memorial goes ahead under eye of heavy security
Over 7,500 Israelis and Arabs attend alternative memorial service in Tel Aviv as Israel marks Memorial Day, sparking anger among Israeli groups, who stage protests nearby against 'the crazy Left'; writer David Grossman says during ceremony, 'Enemies can connect out of grief.'
More than 7,500 people took part Tuesday evening in an alternative memorial ceremony, held jointly by left-wing Israelis and Palestinians, to remember fallen IDF soldiers and Israeli victims of terror, as well as Palestinian victims of the ongoing Israel-Palestinian conflict.
The event, held in Tel Aviv's Yarkon Park, went ahead—while Israel marked its national Memorial Day—under a heavy security presence comprising hundreds of police, cavalry and detectives from the Tel Aviv District.
It took place for the first time in an open space after the organizers claimed that it was prevented from being held in Holon. Outside the ceremony, about 150 right-wing activists demonstrated.
Writer David Grossman, who will receive the Israel Prize for Hebrew Literature and Poetry on Independence Day, said during the ceremony that "there is a lot of noise and commotion around our ceremony, but we aren't forgetting that it's a ceremony of commemoration and communion, and the noise is present too. In our event, there is a deep silence of the void created by the loss."
He went on to mention his son Uri, who was killed in the Second Lebanon War. "My family and I lost Uri, a young, smart, cute and funny man-in the war. Even now, 12 years later, it's hard for me to talk about him in public. The death of loved one is the death of an entire, unique private culture, with its own special language and secret, and it will cease to exist and there will be no other culture like it.
"It's so easy to devote oneself to hatred and rage and a desire to take revenge, but every time I am tempted by hatred I lose the live contact to my son. Something there is distorted. I have made my decision and made my choice, and it seems that everyone present here has made the other choice. There is creation and there is grief that connects us too. Old enemies can also connect to each other from within the grief and because of it."
Grossman, who was occasionally applauded by the audience, added: "I have learned that each family member can mourn as he pleases. No one can tell another person how to mourn. That applies both to a private family and to Israel's large bereavement family.
"There is a feeling of a shared fate and a fate which only we can understand, and so if the 'bereavement family' definition is real and sincere, please respect our way. It deserves respect. It isn't a simple and obvious way. It's filled with internal contradictions, but that's our way of providing meaning to the death of our loved ones after their death and this is our way—not to act and not to despair, so that the war may die out in the future and may cease completely, and we may get to live a full life rather than survive from one disaster to another.
"We, Israelis and Palestinians who have lost our loved ones, people who may have been dearer to us than our own lives, we touch reality through an open wound. A person who has been wounded this way doesn't fall into illusions and knows that life is an endless compromise. Bereavement makes us more sober concerning the limitations of power or the illusions of those with power in their hands. We are more suspicious and are disgusted by manifestations of nationalistic arrogance or leaders' haughty statements. We are practically allergic to that."
'Israel is a fortress, but it isn't a home yet'
He added that "Israel is celebrating its 70th anniversary this year. If only we could celebrate more and more generations of people living alongside a Palestinian state in peace, living a day-to-day routine, a safe routine, and feeling at home. A home is a place with clear and stable walls, whose inhabitants are familiar with its intimate relations, reflecting future and continuity. We aren't there yet. We, the Jewish people, must be a home. Israel is a fortress, but it isn't a home yet.
"If the Israelis don't have a home, the Palestinians won't have a home either, and vice versa. If Israel isn't a home, Palestine won't be a home either. I have granddaughters aged six and three, and for them Israel is an obvious thing, that we have a state, roads, schools, hospitals, a language with rich Hebrew."
Grossman went on to attack Prime Minister Benjamin Netanyahu and Defense Minister Avigdor Lieberman. "I belong to a generation in which these things weren't obvious, and this is the place I'm talking from, this approach that we have finally come home. But an Israel which has been oppressing a people for 70 years and launching an apartheid is less of a home. When the defense minister prevents peace-seeking Palestinians from attending a peace-seeking gathering, that's less of a home. When the prime minister incites against human rights organizations and tries to enact laws overriding the High Court, Israel becomes less of a home for us all."
He added that "when Israel discriminates against the periphery residents and discriminates against the residents of south Tel Aviv and is insensitive towards Holocaust survivors and the elderly, and when hospitals collapse, it is less of a home and it's a dysfunctional home. When it discriminates against a million and a half Palestinian citizens of Israel, it's less of a home both for the minority and for the majority. When Israel denies the Jewishness of millions of Reform and Conservative Jews, it's less of a home. When one has to prove one's loyalty to the government and to the ruling party, Israel is less of a home."
Grossman revealed he would divide half of the prize money he is expected to receive on Independence Day between the Parents Circle-Families Forum and the Elifelet organization, which helps children of refugees.
"I see these as bodies that engage in divine service and do the most humane things that the government should have done itself. I want a home with life that won't be enslaved by fanatics with a messianic vision, a state that conducts itself out of concern for the man living in it, out of compassion and tolerance for all dialects of being Israeli, because that is the divine truth. I hope that in 70 years from now, our grandchildren will be standing here, Israelis and Palestinians, each singing his own anthem with one joint sentence, "To be a free people in our land."
'The State doesn't treat me as an equal'
Dr. Amal Abu Saad, widow of Yaqoub Abu al-Qiyan who was shot to death by police officers on February 2017 in Umm al-Hiran, spoke at the ceremony too.
"I belong to the Bedouin society, which is part of the Palestinian society, and I am a citizen of the State of Israel. And if that were not enough, one of those identities allegedly contradicts the other too. It doesn't have to be that way, but it is. The State of Israel, whose identity card I carry, doesn't treat me as an equal among equals," she said.
Dr. Abu Saad added, "Bullets of the Israeli security forces killed my husband, who was a Bedouin, a Palestinian and an Israeli citizen just like me. Police officer Erez Amedi Levy was killed in the same incident. He was buried in the military plot and recognized as a fallen soldier. While my husband, an-award winning educator, was immediately branded a terrorist, and we have been neglected.
"The investigations into the incident clearly show that Yaqoub did not carry out a terror attack, yet the case hasn't been closed and no one has offered a solution. I'm raising six young children on my own, without a roof over my head. No one is taking responsibility for the disaster that took place there.
"I have learned that the narrative of the other should be recognized, even if it isn't fully accepted. We must connect to the other's pain and recognize the other's rights. I have learned that complexity, despite being more difficult, is better than recklessness and the quick solutions we see today."
Among the protesters, dozens of "La Familia" and Lahava members chanted "Death to Arabs" and "Death to Terrorists." The protesters burned a Palestinian flag and lit memorial candles in memory of fallen IDF soldiers and victims of terror.
Attorney Itamar Ben-Gvir, a right-wing activist who was among the demonstrators, slammed the "insane Left" for the initiative.
"The crazy and insane Left is here. How can one compare the murdered saints who sacrificed their souls for the sanctification of Israel and the scum that threw Molotov cocktails and committed murder?" Ben-Gvir said outside the ceremony. "Thank God they were killed. In every sane world (sic), terrorists are eliminated, and here terrorists are praised."
The rapper Yoav Eliasi, known as "The Shadow," vowed to turn up in greater numbers next time the annual event is held.
"Next time we will show up by the thousands. We can't treat this day with contempt," he said, before clarifying that the protesters were against terrorists, not Arabs. "We are not chanting 'Death to Arabs' but rather 'Death to terrorists.'"
Another activist, Ran Karmi Buzaglo, said that the activists had come "to give a voice to our fallen sons who died protecting the homeland. Their event is shameful for the bereaved families. We will not allow for it to proceed as if nothing is happening."
On Tuesday morning, the Supreme Court ordered Defense Minister Avigdor Lieberman to allow the entry of 90 Palestinians to the ceremony. The court ordered that the same number of entry permits be issued as in 2016, provided that a rigorous examination finds that they pose no security threat.
Lieberman, who sought to prevent the Palestinians from entering for the event, attacked the judges for their decision. "The High Court of Justice created an equivalence this morning between bereavement and terrorism, between murdered and murderers," he said in a scathing tweet. "The court's decision is an affront to this most stately and unitifying day for the people of Israel. The end result is division instead of unity."
Almagor, the organization of terror victims, expressed anger over the ruling that allowed Palestinians to attend the ceremony. "We oppose the decision of the High Court of Justice to allow Palestinian terrorist fighters and their families to attend the joint ceremony, Meir Indor, chairman of the organization said.
"They do not have the right to enter Israel. It is a privilege. The courts can make exceptions for unique medical cases. But that is not the case. It is almost like conducting a joint ceremony for the SS men the executors, and the victims, on Holocaust Memorial Day."